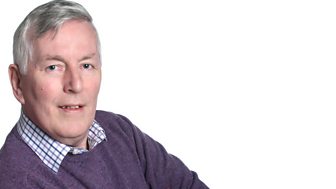 Richard Nankivell
How's your parts? It's Nanks' nocturnal antidote to life.
On demand
This programme is not currently available on BBC iPlayer Radio
On radio
There are no upcoming broadcasts of this programme
Last on
Thu 27 Mar 2014 22:00
BBC Radio Cumbria
Richard Nankivell
Born and "brung up" in Bideford, North Devon, Richard trained as a livestock auctioneer with the family business in North Devon after leaving school.
In 1972 he decided he wanted to see the world! He sold his last pen of draft ewes, laid down his gavel and was lucky enough to join The British Forces Broadcasting Service (BFBS) presenting and producing programmes overseas for HM Forces.
His postings took him to Cyprus, Gibraltar, Germany, Belize, The Falklands and the Gulf - three of these being actual "theatres of war" at the time! Looked good in uniform, though!!
After 20 years abroad, he came back to the UK in 1992 and joined BBC Radio Cumbria.
Any odd claims to fame?
"I did commentary for BFBS for four consecutive years in four different countries at The Eurovision Song Contest."
What does he do when not at the BBC?
Enjoys playing golf, watching international rugby and Tommy Cooper, fell-feeling, music and malt whisky.
Pet Hates Motorway cones, Manchester United and automated telephone systems.