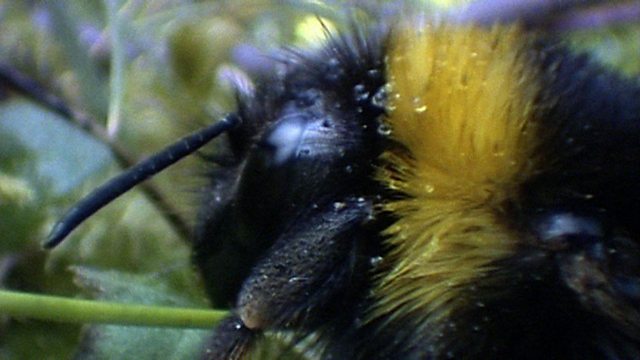 Hot bodied bumblebees
Bumble bees have large and heavy bodies and flying can be a tremendous effort. In spring, when it's still cold, a queen bumblebee is only a few degrees warmer than the surrounding air and she needs to warm up before she can fly. A thermal imaging camera shows how she manages this. She puts her wings 'out of gear' so she can rev up the muscles without moving them. That raises the temperature in her thorax by 20 degrees centrigrade or more. With her temperature over 30 degrees, at last she has a chance of lifting off. She'll now be able to visit the spring flowers while it's still too cold for others to do so. Daffodil trumpets retain the heat well and are still warm long after their hot bodied visitors have left.
Credits
| Role | Contributor |
| --- | --- |
| Key talent | David ATTENBOROUGH |
| Editor-in-chief | Mike SALISBURY |
| Producer | Mike SALISBURY |
| Camera Operator | Tony ALLEN |
| Camera Operator | Rod CLARKE |
| Camera Operator | Martin DOHRN |
| Camera Operator | Alastair MACEWEN |
| Camera Operator | Mark PAYNE-GILL |
Featured in...
David Attenborough's selection of memorable film moments demonstrating the leaps in filmmaking technology in the past 30 years and showcasing the diversity of life on Earth.

A collection of clips illustrating the importance of the honey bee and its recent decline.

Be captivated, informed and inspired by the world's wildlife.