Little leapers
Duration: 01:00
A huge and varied population of animals live on the land that have bodies little or no different from their ancestors that came from the sea long ago. And they are extraordinarily successful. But they are seldom seen and showing a springtail next to a pin head shows why. They are tiny and there may be over 10,000 individuals in the space of a square metre. Drying out is a very real danger and some waterproof themselves regularly with a droplet of special grooming fluid. They have 2 inflateable tubes that enable them to get to those hard to reach places. The have a rather novel way of jumping. A tiny 2 pronged lever that can catapault them some 15cms into the air. The equivalent of a human jumping over the Eiffel Tower.
Available since: Mon 22 Jun 2009
Credits
Key talent

David ATTENBOROUGH
Editor-in-chief

Mike SALISBURY
Producer

Peter BASSETT
Camera Operator

Keith BRUST
Camera Operator

Rod CLARKE
Camera Operator

Martin DOHRN
Camera Operator

Nick HAYWARD
Camera Operator

Richard KIRBY
This clip is from
1/5 Revealing how animals first left the seas to colonise the land over 400 million years ago.
First broadcast: 23 Nov 2005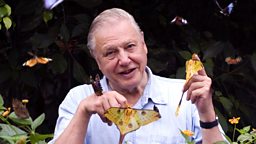 Featured in...
David Attenborough's selection of memorable film moments demonstrating the leaps in filmmaking technology in the past 30 years and showcasing the diversity of life on Earth.

Be captivated, informed and inspired by the world's wildlife.

George McGavin introduces some of his favourite video clips.
More clips from Invasion of the Land