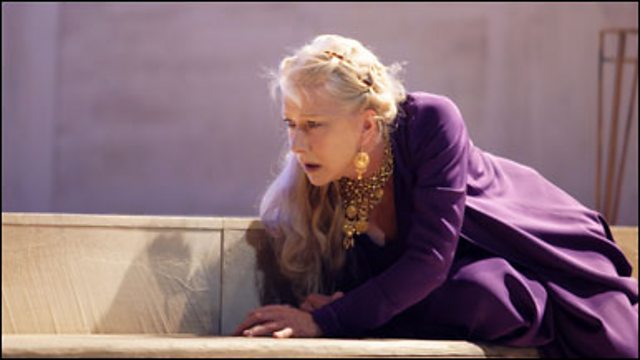 23/06/2009
Phedre
This week the National Theatre in London is likely to draw the largest ever audience for a single performance of a play when it stages the Greek tragedy 'Phedre', starring Helen Mirren. On the 25th of June the show will be transmitted live by satellite to over 100 cinemas around the world. An audience of 20,000 or so is expected to watch. The producer of the play, David Sabel, reveals how it will all work.
The Hurt Locker
The Hurt Locker is a new film telling the story of a bomb disposal unit of the US army in Iraq. Time magazine calls it 'near perfect' and the critics are raving about it. You could expect this kind of thing to be about how well-equipped the US army are, or about what incredible technical gear they have, but this film approaches it from the point of the view of the men who wearing the protective suits and defuse the bombs. One of the keys to the success of the film is its cinematography which always focuses on the men rather than the machines, and which gives audiences the strong sense of being there. We talk cameras with the film's cinematographer Barry Akroyd.
Chad Capital of Culture
N'Djamena, the capital of Chad is celebrating being chosen as the African Islamic Capital of Culture for 2009. But, situated right at the heart of Africa and at the crossroads for many different cultures and languages, Chad has a mixed heritage with more than 200 different ethnic groups. Much of the south is Christian and practises like initiation ceremonies are still an integral part of everyday life. So can N'Djamena really call itself an Islamic city? Celeste Hicks reports.
Davy Sicard
The Reunion Island singer Davy Sicard has just performed at a new festival called Exhibition Road which is part of the global arts day "Fete De La Musique". He drops in to the Strand studio to discuss his current album Kabar and to perform exclusively for The Strand.
Last on
Wed 24 Jun 2009
11:32

GMT