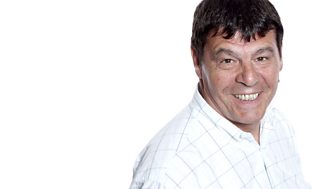 Nick Girdler
Hand-picked show correspondents bringing you a round-up of the best weekly stories, a Top Ten to challenge your intellect, community Free Ads, Nick's HUGE Society and a weekly bbq!
About the show
It comes to you at the speed of light but we only ask that you listen at the speed of sound. We fully realise this requires you to listen to this programme extremely fast but if  you do you'll be amazed and amused to discover the BBC still lets stuff like this go out on the air. You just have to be there.
There's a top ten each week which will keep your brain racing to find a reason to live. Under health and safety regulations we have to inform you that it's not a competition even though it may look like one but it is in fact a BBQ, even during January and February.
Nick's News will have you writing to the head of broadcasting requesting a change to the ten o'clock variety.
There's also a chance you might find yourself volunteering and making a difference.
And because you've already paid for the TV licence the good news is that it's free, so free in fact we offer you a chance to place your own free ad!
If that's not enough the producer gets her own back by putting Nick on the spot each week by not telling him what's happening after 11.00 !!
The Nick Girdler programme also encompasses the world; with listeners in France, Switzerland, and Australia….Local radio at its local best.
Join him at 9 every Sunday (he needs the money) for an experience even the Director General avoids.
E-mail the programme:
nick.girdler@bbc.co.uk