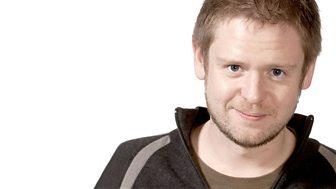 Richard Spurr
Join Richard Spurr on BBC Radio Stoke.
On radio
There are no upcoming broadcasts of this programme
Last on
Last Friday 12:00
BBC Radio Derby
Join Richard Spurr
Richard learned the "Three Rs" at Nottingham High School and then spent three years amongst the fens of East Anglia studying modern languages and literary theory - the obvious choice for a broadcaster.
After several years in London working in TV production and tarting his tonsils around Soho as a voiceover artist, he decided he could resist the urge of the airwaves no longer and headed back to The Midlands. Join Richard Spurr on BBC Radio Stoke.
Richard joined the BBC in 2005. 
He has always been transfixed by the wireless, and has an unhealthily extensive knowledge of old British comedy, with a particular penchant for the likes of 1960s radio comedy Round The Horne and Ealing-made film School For Scoundrels. 
Outside the world of broadcasting, Richard's consuming passions are food and wine. He invested in a Chinese cookery book, a wok, and a cleaver, at the age of eight and never looked back. Seafood is one of his greatest loves and obsessions.
Summer holidays are usually spent on the North Cornish coast - sea-fishing, collecting mussels off the rocks, and diving for crabs. 
Amongst Richard's better-known heroes are Rick Stein, Terry-Thomas, Kenneth Williams, Peter Sellers, Steve Coogan, Sir John Betjeman, Ricky Gervais and Stephen Fry. 
Four things not many people know about Richard:
As a nine year-old boy he ran onto the pitch on a cold winter's night at Meadow Lane as Notts County's mascot. 
Steve Cherry, Don O'Riodan, Tommy Johnson and Dean Yates were playing and they beat Swansea 2-0. 
When Richard gets home he always puts his pyjamas on, even during the day. 
When he was younger, Richard had a phobia of buttons which he has since grown out of. 
Richard's favourite song to do at karaoke is Candle in The Wind by Elton John (the Norma Jean version).