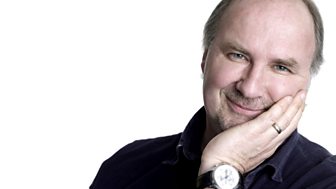 Gavin Ashenden
Gavin Ashenden ... Sunday from 0900 on BBC Sussex.
Suspecting (with very good reason) that the legal profession was not ready for him, he spent some time playing his flute with the BBC Academy orchestra. This gave him time to get used to the increasingly alarming idea that he might have to become a priest instead.
After working as a vicar in parishes in Bermondsey and South Croydon, he went back to University for the third time to do some postgraduate work in the Psychology of Religion.
Then he became Chaplain to the University of Sussex, where after a part time Ph.D. he teaches in the Department of English and writes the occasional book.
He had been taking part in the Sunday morning Faith and Ethics program on an occasional basis since the 1990's, and was asked to start presenting it in 2008.
Occasionally new producers on the program panic as they can see Gavin through the glass wall of the studio apparently in the throes of drowning.
However, this is only until older hands point out that Gavin is simply satisfying his life long fantasy to be an opera singer, and he is just having trouble getting the high notes behind a closed microphone during some exciting new song.
Luckily this hardly ever finds its way onto live radio.
Gavin's full title is The Reverend Canon Dr Gavin Ashenden, (which unbeknown to him, his radio colleagues say they rather impressed by.)
In what he thinks might be due to some clerical error, Gavin found himself made a chaplain to the Queen in 2008.
Her Majesty takes no responsibility for any of his views.
Join Gavin on Sunday mornings from 0900 ... inspirational stories of faith and moments of prayer and reflection.
On demand
This programme is not currently available on BBC iPlayer Radio
On radio
There are no upcoming broadcasts of this programme
Last on
Sun 19 Jun 2011 06:00
BBC Surrey