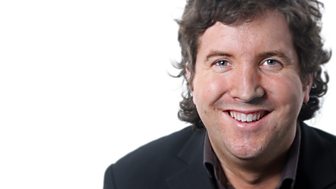 Lee Stone
Lee Stone rounds up the day's news, sport, travel and weather for Wiltshire.
About the programme
Lee Stone started life in the BBC as a teaboy. Fortunately, his tea-making was so bad that he was soon promoted to the role of presenter, where the management team felt he could do less harm.
He has worked in Birmingham, Manchester, Essex and Nottingham and has won awards for journalism along the way.
Spice Girls, Rolling Stones and cabinet ministers have all visited Lee's studio for a chat but he reserves his fondest memories for his listeners.
He said: "I don't know whether you'd call them highlights, but my most memorable moments so far have to include the woman who went into labour during an on air competition - fortunately my producer was also a trained nurse, and we talked to her until the paramedics arrived.
"The other moment would be the caller who couldn't identify the composer of Beethoven's 3rd Symphony and guessed at Mozart".
Lee has no points on his driving licence, enjoys cooking but can't resist a take away Char Sui Curry, and lives with his wife and two gerbils called Mister Snip and Monkey Magic.