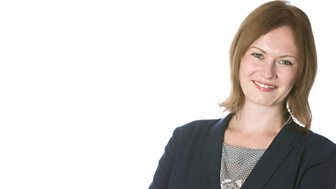 Kate Clark
Great music and chat on the only live lunchtime radio show in Gloucestershire.
Kate Clark
Kate began her time at BBC Radio Gloucestershire presenting the Early Breakfast show and reading the travel news on Mark Cummings at Breakfast.
She's now left those early mornings behind and instead spends her Saturday mornings with you from nine till noon.

Some things you didn't know about Kate:
• Kate plays the drums and sings in her very own band.
• Her claim to fame is that she once made David Jason a cup of tea whilst he was filming A Touch of Frost at her parents house, however he poured it away in disgust.