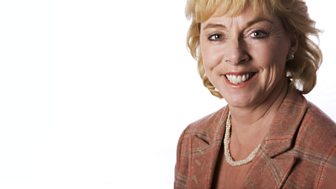 Louise Priest
Louise Priest with early morning music and a look at faith issues.
On demand
This programme is not currently available on BBC iPlayer Radio
On radio
There are no upcoming broadcasts of this programme
Last on
Tue 31 Dec 2013 09:00
BBC Radio Norfolk
About the show
Louise first joined BBC Radio Norfolk in the early '80s as a young news reporter, before becoming a news producer and occasional presenter.

She moved to present BBC Look East in 1987 for three years before having her two children, Clark and Grace. 

Louise moved to Essex for a couple of years with her husband's job, but kept her hand in both with BBC Look East and BBC Essex. 

In 1993 the family moved back to Norfolk where she began to present BBC Radio Norfolk's breakfast programme for six years - it's a record which still hasn't been broken. 

Louise then spent 18 months presenting the mid-morning show, before returning to BBC Look East as a programme planner and presenter. 

Louise presented Sunday Breakfast from 2007 until 2010, and now regularly fills-in for Nick Conrad on the morning phone-in.