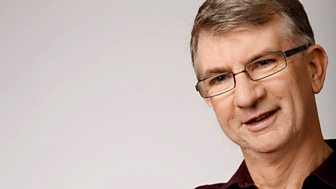 Paul Braithwaite
Paul Braithwaite has been part of BBC Radio Cumbria since before the station went on air.
Over the years he has presented just about every type of programme at every time of the day - or night!
Radio has always been his first love and his passion to be a "Disc Jockey" took hold in 1964 when he heard Radio Caroline North (the pirate radio ship anchored in Ramsey Bay off the Isle of Man) and decided that spinning great music on the radio was what he wanted to do the most.
Paul's 40th birthday party was broadcast live from Kendal in the form of a country music show, which shows his passion for the "country style".
He describes one of his favourite broadcasting moments as having to describe the arrival of the two strip-a-grams to the event. "I couldn't see much, as my glasses were all steamed up."
What would the reader be surprised to find out about you?
"Several things I suppose."
I nearly became a vicar!
I'm incredibly good looking.
I collect anything to do with cycling.
I once did my programme minus my trousers after falling in a river.
When you're not broadcasting how do you relax?
Away from the microphone you will find Paul either riding one of his bicycles or reading about cycling.
The highlight of his year is "Le Tour de France" which he follows via the Internet, TV or by the roadside in France itself.
He also practices the bass guitar and harmonica and writes songs with his wife Glenys.
On demand
This programme is not currently available on BBC iPlayer Radio
On radio
There are no upcoming broadcasts of this programme
Last on
Fri 31 Jul 2009 22:00
BBC Radio Cumbria