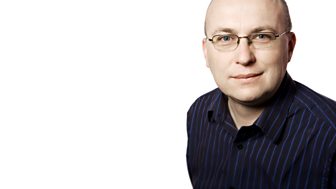 Matthew Gudgin
Matthew brings you up to date with the day, with Norfolk's news, features and travel.
About the programme
Matthew started covering the action at Norfolk County Cricket Club in 1988 and hasn't missed a season since - more than 20 years later.
He began presenting the morning sports bulletins on BBC Radio Norfolk in 1990 and was promoted to sports editor in 1995.
If cricket is his first love, then cars are his second. A number of gleaming sports cars have found their way into the BBC Radio Norfolk car park over the years, but the first set of wheels he owned belonged to a Mini 1000.
The first record he bought was This Town Ain't Big Enough For The Both Of Us by Sparks, but these days he prefers to listen to Island of Dreams by The Springfields.
In the past he has fronted the Sunday Breakfast show and even sounded - almost convincingly - like he has a passion for country music on the day Roy's tape fell off the air!
Away from work Matthew enjoys travel (his favourite place in the world is the Amalfi Coast in Italy), classic cinema (especially The Way To The Stars starring John Mills and Michael Redgrave) and seeing as much cricket as he can possibly squeeze in.
Despite being a huge cricket fan there are some aspects of the sport he doesn't like - the worst present he ever received was a cricket book called Allan Border's Ashes about how the Aussies beat England!
Listen to Matthew Gudgin, weekdays from 4pm.