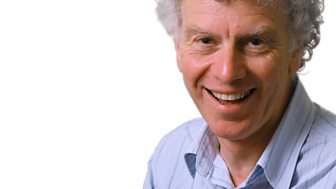 Johnny Coppin
Join Johnny Coppin for his showcase of Gloucestershire's acoustic music scene.
Johnny Coppin
Johnny Coppin is an an accomplished singer/songwriter who has produced and presented an acoustic music programme since 1996. 
He's also composer and poetry anthologist in his own right.
Formerly with the folk-rock band Decameron, his many solo albums include Forest & Vale & High Blue Hill, Edge of Day - a collaboration with world-famous writer Laurie Lee, Force of the River, A Country Christmas, The Shakespeare Songs and his most recent albums Keep the Flame and The Winding Stair.
His clear voice together with his ability to write fine songs make his music essentially English in character while having universal appeal.
Johnny's show features the full range of acoustic music from off the beaten track.
If you have a request for a particular song to be played, or if you have an acoustic music related event you would like to have publicised on the programme, just email him on johnny.coppin@bbc.co.uk
Johnny's Gig Guide
THIS WEEK --There are far too many regular events to mention  -- so for full list of all dance clubs, sessions, morris sides etc,,..see.glosfolk.org.uk and also www.folklife.org.uk Folklife Quarterly magazine
4-5 STROUD AMERICANA FESTIVAL - Saturday evening- Brooks Williams, Hannah Johnson & The Broken Hearts,  Sons of the Delta from 6pm at Sub Rooms - on Sunday -  Kevin Brown Trio, Bob Porter Project, Silurian from 1pm at Black Book Cafe, Russell Joslin /The Ponderosa  at Prince Albert 7pm  01453 760900
3-5 WYCHWOOD MUSIC FESTIVAL at Cheltenham Racecourse inc.. ac acts..The Waterboys, Kate Rusby, Keston Cobblers Club, Hannah Scott, and local acts Edd Donovan & The Wandering Moles, George Montagu, Katie Collins          www.wychwoodfestival.com
4-5 ASPARAFEST MUSIC AND FOOD FESTIVAL in Evesham inc Blackbeard's Tea Party, Roving Crows, 
Sat 4  
Show of Hands at Gloucester Cathedral for concert in aid of Malaika charity 7.30pm £23 Info: 0845 652 1823, or Cathedral Gift Shop
Robin & Bina Williamson at The Garden Café, Lower Lydbrook Info: 01594 860075
Ninebarrow + Robert Lane at Tiddy Hall, Shipton Road, Ascott -u- Wychwood, Oxon Doors 7.30pm  wychwoodfolkclub@zoho.com
Megson- band show- at Artrix in Bromsgrove
Sun 5
Kara (folk band with Daria Kulesh) - at Forest Folk Club - The Royal Oak, Whitecroft nr Lydney 8pm
Peter Howarth Unplugged with s/s Michael Armstrong - Bishop's Cleeve Tithe Barn
Harpers Ferry (Cheltenham band)- Exmouth Arms Bath Rd Cheltenham
Lucy Ward- Chapel Arts in Bath
Mon 6
Cheltenham Ukelele Club - Exmouth Arms, Bath Road
Tue 7 
Jim Causley- Bar of The Roses Theatre, Tewkesbury 8pm
It's Your Vault - Totally Unplugged Open Mic! First Tuesday of every month at The Vaults Beeches Rd, Cirencester. 8pm. 
Open Night at Winchcombe  Folk Club at The White Hart,
Singers Night at The Brockweitr Inn, Brockweir
Folk at Frampton on Severn Village Hall
Martha Tilston- The Lantern Bristol Colston Hall
Wed 8
The White Horse Whisperers -  Twitchetts Live Stroud Subscription Rooms 8pm
Ragged & Old Morris Dancers are at The Carpenter's Arms, Miserden, with Sabotage Clog Dancers. 7.30 for 7.45pm
then Common Ground - local folk band 8.30pm  free admission 
Thu 9
Jim Causley Trio -  The Convent, South Woodchester nr Stroud  doors 8pm
A 'Folk Treble' evening showcasing new material from singer-songwriter Colin Pitts, Birmingham duo Ashland and local musician Mike Weaver -  Oat Street Chapel, Evesham 8pm Tickets from www.wegottickets.com/event/359113
Fri 10
Martin Carthy - Gloucester Guildhall Tel: 01452 503050 /
Michael Messer's Mitra (anglo Indian Call of the Blues Tour) - The Convent, South Woodchester nr Stroud  doors 8pm
Riverfolk at The Trout Inn, Riverside, Lechlade 8pm Info: 01367 252313
Jeff Warner (USA) - Swindon Folksingers' Club, Ashford Rd Social Club 01793 521301
Rory McLeod solo gig at Old Road Tavern in Chippenham
Somers Traditional Folk Club, The Alma Tavern, 74 Droitwich Road, Worcester
10-12 WIMBORNE MINSTER  FOLK FESTIVAL -- includes Mawkin, Coppin/Silver, Greg Russell & Ciaran Algar, Ninebarrow, Tinderbox, and many more..
10-11 WALLINGFORD BLUES AND BEER FESTIVAL - includes Babajack, Wilko Johnson, Thomas Ford etc..
10-12 GOWER FOLK FESTIVAL - Malinky, John Spiers, Lady Maisery, The James Brothers, Carrivick Sisters, Moore Moss Rutter, Plu, The Gentle Good, Ninebarrow,  and more
Sat 11
Magpie Lane (folk band) at The Venue, Crofts Lane, Ross on Wye 8pm Info:  07771 500545 philban2003@yahoo.co.uk www.ticketsource.com/rossforreffugees 
Wild Willy Barrett and His French Connection- Folk in the Foyer, Evesham Arts Centre