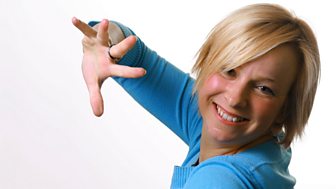 Faye Hatcher on Saturday
Aren't Saturdays great?! I have everything you need for a Saturday morning to keep you going for three hours and get you in the right frame of mind for the weekend.
All the latest news and sport and if you're heading out to the shops, travel news every 30 minutes.
Perhaps you're playing for your local team and you need to know what the weather's doing, you can hear up to date weather from the BBC Weather Centre every hour.
If Saturday mornings to you are a good excuse to catch up with some housework, then I have a great selection of music to vacuum along to. Request a dedication, birthday request or favourite ironing tune by using the email link below.
You can also hear a lively mix of interviews and talking points on the Saturday Show.
I talk about everything - relationship advice, extreme sports, health and beauty, local celebrities, gardening, home improvements, gadgets, top tips, Gloucestershire music scene, and the list goes on.
Why not suggest a talking point of your own... you could be the star of the show!
Simon Rose presents the 'Movie Guide' and previews all the latest film and DVD releases.
Have you seen something atrocious at the cinema recently? Why not become one of the Saturday Show's film critics? Email me your film reviews.
We like to get out and about on Saturday mornings and I love hearing about all your events you've planned over the weekend.
If you have an event taking place on Saturday, email me the details and I'll give it a special mention on the show. I might even come out to you and do an interview with you!
On demand
This programme is not currently available on BBC iPlayer Radio
On radio
There are no upcoming broadcasts of this programme
Last on
Sat 12 Jun 2010 09:00
BBC Radio Gloucestershire