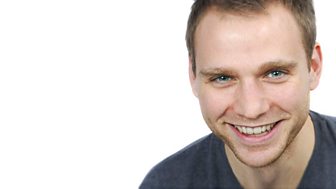 Pete Cooper
Raised in Brackley, Pete is the son of Greek Mother and Scottish Father who had emigrated over from South Africa.
Pete grew up dreaming of being a goalkeeper, and when he was 12, he had trials at the Cobblers, but sadly it didn't work out.
Aged 14 he took his first job sorting second-hand books in the Old Hall Bookshop in Brackley, and spent most of his income on chocolate and chips in sweet and sour sauce (the chips that is, not the chocolate).
He stayed on at Magdalen College School to take his A-levels in computing, sociology and psychology and progressed onto Manchester University to study Psychology.
While in Manchester, Pete quickly got involved in the student media, becoming Deputy Fashion editor of the student paper (yes really), and a presenter on the Student Radio station, for which he won a bronze for best male presenter at the 2004 UK Student Radio Awards.
From University Pete entered the world of showbiz at the bottom, working in promotions for Jerry Springer the Opera.
After a stint handing out flyers at the Edinburgh Fringe Festival, he got his first job in radio at BBC Radio Manchester working on the Rugby League programme.
Pete arrived back in Northamptonshire to join BBC Radio Northampton as a Broadcast Assistant in November 2004.
He quickly gained a reputation as someone who would do anything to get on air, including Wrestling, Speed Dating and getting his back waxed.
After working under Bernie Keith for time, Pete saw his opening and began to cover shows on BBC Radio Northampton, and now spends his Saturday lunch times talking films, comedy, sport and more.
What little spare time Pete has he enjoys spending with his wife and their two sons.