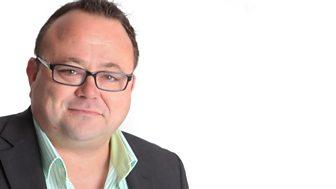 Toby Foster at Breakfast
Essential news, travel, weather and sport all delivered in Toby's unique style. Get involved by text on 81333 (start your message with Sheffield), or call 0114 279 6699. The listen again programme is a repeat. Please listen carefully as our text and phone lines may have closed and you may still be charged. Enjoy the show.
Toby Foster is volunteering at places across South Yorkshire and North Derbyshire.
Toby Foster at Breakfast
Toby is BBC Radio Sheffield's resident comedian. Join him for a look at where you live for his breakfast show every weekday morning from 7am -9am, including news and travel reports every 15 minutes and a full round-up of sport on the half hour. Then Toby hosts the topical phone-in between 9am and 10am.