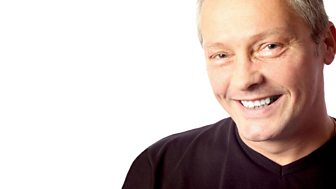 Nick Risby
Late night music and entertainment. Get in touch. Call 0345 30 50 007.
On air
Today 22:00
BBC Essex, BBC Radio Cambridgeshire, BBC Radio Norfolk, BBC Radio Northampton, BBC Radio Suffolk & 1 more…
Listen live (BBC Radio Cambridgeshire homepage)
All upcoming (96 new)
Nick Risby
Call Nick and Roller Robbie on 0845 30 50 007 [standard rate].
Nick has been presenting radio programmes up and down the country since 1979 and settled in Suffolk in the 1980s.
"Right now I'm having the time of my life with all the programmes that I'm involved with," said Nick.
"One of my listeners to the late show referred to it as, "The biggest social club in the world" which is a huge compliment.
"The one thing we set out to do on the show was to be approachable and I think we've achieved this ten-fold.
"Being on the air at that time of night has a really intimate feel to it and it's great to be a small part of people's lives."
To get in touch with Nick e-mail: nick.risby@bbc.co.uk