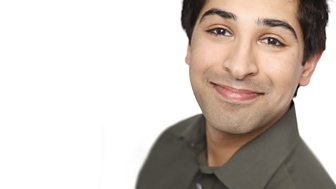 Ajmal Hussain
Join Ajmal every Sunday night between 6pm and 8pm (1503MW/DAB) for the latest Desi news. From what's happening in your neighbourhood to what's hitting the headlines in South Asia.
Born in Lancashire, Ajmal moved to the heart of one of the city's Asian Communities.
He helped out in the family convenience store and in the midst got to know the local people...
"It's hard not to chat and gossip with customers when you live in an Asian community - isn't it part of our DNA?!"
During university he began writing for a minority newspaper which led him to volunteering at BBC Radio Stoke with his film updates...
"Growing up, every Friday was movie night so I'm a big fan of my classic films and music, I've got a real eclectic mix too - I love my old school Bollywood but can handle the odd cover and even a remix now and then!"
If you've got anything happening which you think Ajmal should be discussing then get in touch...
"This is your show after all, so as well as me bringing you the latest goings on, I want to hear your thoughts on some of the stories making the news here and the sub continent".
You can contact Ajmal on the show by calling 01782 208008 or texting 81333 and starting your message with the word STOKE. You can email ajmal.stoke@bbc.co.uk
Desi Download