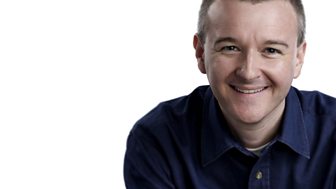 Paul Miller
Call to take part in the late-night phone-in and go to bed with a smile on your face.
On radio
Today 22:00
BBC Radio Berkshire, BBC Radio Kent, BBC Radio Oxford, BBC Radio Solent, BBC Surrey & 1 more…
All upcoming (96 new)
More about Paul
Ever since he started making microphones out of cardboard tubes at the age of eight, it was obvious that Paul was destined to work in radio.
By the age of 13 Paul had started his own mobile disco, along with his own radio station, which was piped into his parents house via cables from the studio he built in the shed!
In addition to the shed, Paul also joined a local hospital radio station and on leaving college, he worked as a DJ and compere - his personality and love for the music shone through and Paul was soon working in some very prestigious London nightclubs.
He moved to the BBC and made his way into the presenting chair for many shows, but now he's settled on two on BBC Radio Solent - his cheeky late show and his Sunday night soul music show.
Paul Miller's Late Show - Monday to Friday from 2200 to 0100
Paul was offered the weekday late show back in 1999, which he describes as the best show on radio: "Late night radio is very special, and allows you to develop a relationship with the listener like no other."
Paul's love of people, along with his friendly banter has made his late night show a real appointment to listen.
You can call to take part in his late-night phone-in on 0345 30 30 961, or you can text your thoughts to 81333 making sure you start your message with the word Miller. Almost anything goes, which means you always go to bed with a smile on your face!
E-mail the programme: paulmillershow@bbc.co.uk
"Who said it?" Terms and Conditions
1. The competition is open to all residents of the UK, including the Channel Islands and the Isle of Man, aged 18 or over except BBC employees, their close relatives and anyone connected with the competition. Proof of identity, age and eligibility may be required.
2. The competition will run each Friday night on the Paul Miller Show (between 2210 and 2230, except when editorial requirements lead to a change in schedule or a change in programme content). These times may change so please listen carefully to announcements.
3. During the show listeners will be invited to register to play the competition:                   By calling your local radio station number listed below:
 - Radio Berkshire - 0345 900 1041
 - Radio Kent – 0345 981 1111
 - Radio Oxford – 0345 93 111 11
 - Radio Solent – 0345 30 30 961
 - Radio Surrey – 0370 411 1046
 - Radio Sussex – 0345 957 0057
Standard geographic charges from landlines and mobiles will apply
The registration period for entries will remain open for approximately 20 minutes. Registrations outside of the period will not count. Please listen out for announcements during the programme for opening and closing times.
No other method of entry will be accepted. Only one entry is allowed per listener per programme.
4. Once the call registration window opens, calls will be selected at random by a random number generator and called back in the order they were selected to take part in the competition live on-air.
5. Entrants must be available on the telephone number given to the production team. If after reasonable attempts a shortlisted entrant cannot be contacted, the next selected shortlisted entrant will be contacted.
6. Calls will be taken throughout the approximate 20 minute window, with successful callers being called back in the order as selected by the random number generator until a caller is successful at guessing the correct answer.  Any calls after this even if successfully selected, will not be eligible to take part after the prize has been won. If there are no correct answers there will be no winner and the answer will be announced at the end of the competition.
7. The prize will be a local radio t-shirt. For the avoidance of doubt, the prize does not include any other costs or expenses.
8. The prize is stated as above. There is no cash alternative and the prize cannot be sold or transferred in any circumstances.
9. The BBC's decision as to entrants taking part and winners is final. No correspondence relating to the competition will be entered into.
10. Entrants agree to take part in any post-competition publicity if required.  The names of winners will be made public. Winners are not eligible to re-enter the competition in subsequent programmes.
11. Your telephone number, name, age and any other personal details will be handled by the BBC in accordance with the Data Protection Act 1998. The BBC will only ever use your personal details for the purposes of administering this competition. Your personal details will only be kept for as long as necessary to fulfil these purposes. Please see the BBC's Privacy Policy: http://www.bbc.co.uk/privacy/
12. This competition is conducted in line with the BBC's code of conduct for competitions, which can be found on
http://www.bbc.co.uk/guidelines/editorialguidelines/advice/interactivity/code/.
13. The BBC reserves the right to: (i) amend these terms and conditions and vary the competition rules including but not limited to the programmes included, opening and closing times; (ii) disqualify any entrant who breaches the rules or has acted fraudulently in any way and; (iii) cancel the competition, at any stage, if in its opinion it is deemed necessary or if circumstances arise outside its control.
14. The BBC, their sub-contractors, subsidiaries and/or agencies cannot accept any responsibility whatsoever for any technical failure or malfunction or any other problem with any server, system, network or mobile operator or service provider or otherwise which may result in any registration not being properly logged or not recorded.
15. Entrants will be deemed to have accepted these rules and to agree to be bound by them when registering.
16. The competition is run by the BBC. The applicable law is that of England and Wales.