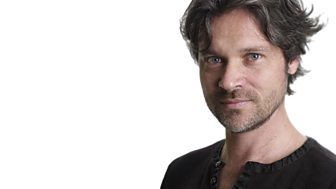 BBC Introducing - The South
BBC Introducing - The South with Phil Jackson ... Saturday from 20:00 across the south.

Phil's insatiable love of music showed up very early indeed. After finding a small transistor radio at the age of seven, countless hours were spent exploring the extraordinary variety of sounds that emanated from that magical blue box.

Phil writes: "A particularly vivid memory was listening to two DJ's on the local rock station talking about a track (it was by Thin Lizzy I think), and I thought to myself - I wanna to that."

His first taste of broadcasting came ten years later regularly guesting on a friend's jazz show on the University's station.

Ten years of travelling significantly broadened Phil's horizons (musically and otherwise) and Phil first pulled into Brighton station on Guy Faulks night near the turn of the century.

His work with BBC Sussex began in 2002 with a weekly "what's on guide" which profiled local bands and music events on the breakfast show.

This developed into the sonic bonanza that is South:Live in November 2004.

Phil lives in Hove with his wife Claire and step-daughter Amelia along with a cat, four fish and a hamster called Daisy.

Outside of his work as a broadcaster, Phil is deeply involved in music, both as a musician and as a live events organiser.

Other interests include travel, gardening, cooking and good cups of tea.
Uploading tips
If you enter a Sussex or Surrey postcode when you register, your songs go straight into the South Live inbox.

You'll be notified automatically when your tracks are listened to by someone at the BBC or if they're going to be broadcast. If we like what we hear, you might even bag yourself a session or a slot on the BBC Introducing festival stage.