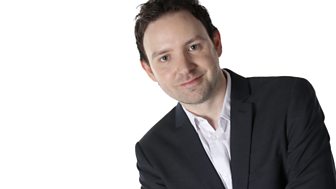 Simon Hoban
A mix of news, music and travel to take you home.
On demand
This programme is not currently available on BBC iPlayer Radio
On radio
There are no upcoming broadcasts of this programme
Last on
Fri 13 May 2016 16:00
BBC Radio Merseyside
About the programme
Drive with Simon Hoban (Weekdays 1600 - 1800) brings you the latest news and lifestyle features, helping you decide how to spend your evening
Simon has returned to his roots after being brought up on Merseyside and spending a few years in other parts of the country.
His first job was working with his dad on a savoury meat van in Liverpool.
"I used to have to sit in the freezer compartment in the back of the van at five in the morning counting up sausage rolls to make sure the order was right.
"It was the best incentive to stay on in education I could have wanted".
That took him to Liverpool University to study music, and he later joined a cabaret band doing the club circuit on Merseyside.
"It was a great laugh, and I had to quickly learn the traditions and foibles of those fine institutions.
"I spent Millennium Eve in a social club in Huyton playing 'Mustang Sally'.
"It doesn't get much better..."
Turning his attention to journalism and radio, his first ever assignment was handling the breaking news of huge job losses at Cammell Laird in Birkenhead, "I had a microphone, a notepad, and a crowd of very angry shipyard workers in front of me.
"It was a baptism of fire."
With over a decade working in radio, the most unusual job he's ever had to do was a report at a naturist holiday camp.
"The radio station ordered me to do it naked to 'get a feel' for the role. But that wasn't all - they also wanted me to take photographs for the website!
"On the way home I bottled it and promptly deleted them all from the camera. Or at least, I think I did...."