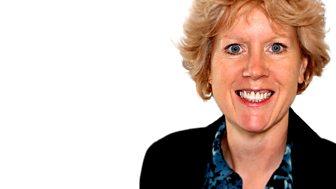 Monica Winfield
Monica's a weekend early bird! From 6am on Saturdays, she brings you a taste of what's going on in Leicestershire and Rutland. And on Sunday its news and music from a multi-faith perspective.
Monica is something of a performer - having been a member of various singing and acting societies in Leicester. She's peformed in diverse locations, from De Montfort Hall, the Little Theatre - and Glen Parva Young Offenders Centre!
Listeners will be familiar with "Woody" - Monica's German Shepherd/Greyhound who was born at (and named after) Leicester's RSPCA Woodside Animal Centre. The tales of Woody's escapades are a regular feature as he gets to grips with training and he has also become part of Monica's fitness routine - whether its a good walk around Thornton Reservoir, Bradgate Park or their local playing fields - or a yomp along the beach at Cromer!
There's also lots of opportunity for you to tell Monica what's been going on round your way - with texts, e-mails or telephone calls.
Monica celebrated her 30th anniversary at the BBC in 2008 - having joined as a Secretary, straight from College. She's worked for the BBC in London and has relished the opportunities the BBC has given her. Whilst presenting on a Sunday morning, Monica heard about the Leicester Street Pastors and is now part of the City Centre Street Pastors team, going out into the city on the first Saturday of each month. She's also taken part in many charity stunts and fundraisers - from a parachute jump to fire walking. One of her proudest moments came courtesty of the Leicester branch of the RNLI who invited her to perform the official naming ceremony of "Pride of Leicester" in Staithes - complete with a huge bottle of champagne!