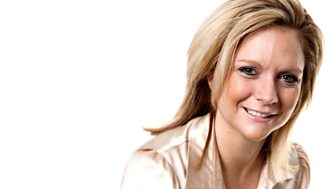 Jo Thoenes
Advice, ideas and inspiration on how to get the most from life in Oxfordshire.
On demand
This programme is not currently available on BBC iPlayer Radio
On radio
There are no upcoming broadcasts of this programme
Last on
Mon 1 Apr 2013 06:00
BBC Radio Oxford
Jo Thoenes
Jo's broadcasting career started in Kenya, where she grew up, compiling travel reports and presenting showbiz bulletins before branching out into presentation on Saturday morning and weekday drivetime shows.
After four years with her first station, and as a result of a rash New Millennium resolution, she arrived in Britain, and quickly found work on London-based internet radio project Puremix.
Finding her way to Oxford she continued to work for a number of stations across the South East, before joining BBC Radio Oxford in 2007.
Jo lives in Didcot, and rates the TV show Grey's Anatomy, the exercise class of Zumba and a good steak sandwich amongst her guilty pleasures.