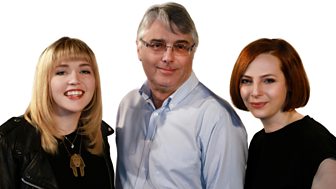 Treasure Quest
David Clayton, Kirsteen Thorne and Sophie Little hunt for clues across Norfolk.
On radio
Next Sunday 09:00
BBC Radio Norfolk
All upcoming (2 new)
About the programme
Treasure Quest explores all corners of Norfolk with you as the vital contributor, helping to solve the clues and work out where the radio car should head next! 
Every Sunday morning, we have four or five clues hidden in different places around a certain part of the county. Each clue leads to where the next one is located, with the final clue leading to the treasure envelope! Our radio car team of driver and clue-hunter have to battle against the clock to solve the clues and find the treasure before the 11.55am deadline, but they wouldn't be able to do it without you phoning in to crack the clues for them! 
For its first five years, the show was well-known for its double-act of studio presenter David Clayton and 'runner' Becky Betts. Becky left in 2013 and Kirsteen Thorne and Sophie Little are now our main clue-hunters, with Julie Reinger also having been a regular in 2013 and 2014, and various others standing-in from time-to-time!
David Clayton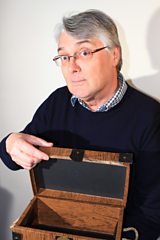 David was born in North Yorkshire, but moved to Gorleston in Norfolk as a child. He was a night club DJ in the 1970s, particularly at the Ocean Room in Gorleston, and he also began presenting on hospital radio. He was part of BBC Radio Norfolk from its very early days and has presented many shows, including the Sony Award-winning Norfolk Airline. 
David has also been a presenter for Anglia Television and for BBC Look East, and in the late 1980s and early 90s worked on feature programmes for BBC Radio 4. He was made Assistant Editor at BBC Radio Norfolk in 1991, and in 1998 he became the Managing Editor – he's been the boss ever since, the longest-serving in the station's history! 
He has been the studio presenter of Treasure Quest since it started in 2008, although some of the audience would doubtless claim that his map-reading is yet to improve! The listeners are also well-used to hearing him enthuse about classic cars, vintage buses and old records.
Kirsteen Thorne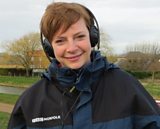 Kirsteen first stood-in for Becky Betts in 2009 and quickly became the first-choice substitute whenever one was needed. She's now the main clue-hunter on the show, and has done more Treasure Quests than anyone else apart from Becky! She has also stood-in as studio presenter on a couple of occasions, including a special Easter show in 2014 when she and David swapped places! 
She comes from the tiny Norfolk village of Pedham, and studied at Notre Dame High School and the University of East Anglia in Norwich. She started at BBC Radio Norfolk as the phone answerer for David Clayton's Early Night show on Sunday evenings in the late 1990s. Therefore she's well used to David's ways, and listeners will have noticed how she doesn't stand for any of his nonsense!  
Over the years she has worked on just about every programme on the station, both behind-the-scenes and as a presenter. Her current duties include producing the Saturday breakfast show with David Whiteley. 
Kirsteen is married to Simon, and lives in South Norfok with their daughters Chloe and Abbie. Her most memorable Treasure Quest moment was finding her mother holding the treasure in her home village of Pedham, on Mothering Sunday in 2011!
Sophie Little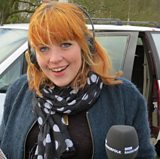 Sophie first took part in Treasure Quest in 2013, and since then has become a well-loved member of the team. A Norwich girl, she's a familiar voice on BBC Radio Norfolk, having been the presenter of our Saturday evening new music programme BBC Introducing since 2010. She was also the voice of the travel bulletins in the breakfast show between 2011 and 2013, and has stood-in as a presenter on the early morning and afternoon shows. 
She doesn't just play music on the radio, however – Sophie is also a keen musician herself, and is the singer in a local rock band! It's probably no surprise therefore that listeners are occasionally treated to snatches of her singing along to the records David plays when the radio car is travelling between clue locations on Treasure Quest! 
Sophie holds a unique position in the history of Treasure Quest, as she's the only one of our regular "runners" to have also stood-in as Navigator, having driven Julie Reinger around the county for a memorably chaotic quest in September 2014! 
Possibly Sophie's most dramatic Treasure Quest moment came at the end of her very first show, when she was taken out to sea by the Sea Palling lifeboat crew to retrieve the treasure, reaching it with just moments to spare!
Want to be a clue holder?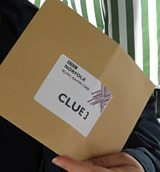 If you've got a great idea for a Treasure Quest clue location in your town or village and you'd like to place a clue there for us one Sunday morning, then why not get in touch? We can't guarantee to use your suggestion, but the Questmaster is always on the look-out for new places to put clues! You can e-mail the Questmaster at the following address:
Treasure Quest on Facebook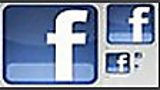 Treasure Quest has its own dedicated page on Facebook, where you can join in with the debate over the clues every Sunday morning and post your suggestions for what the answers are and where the radio car should be heading next. You can also share your passion with fellow fans of the show, and catch up with all the latest news about the programme. Just click on the link below to take part: