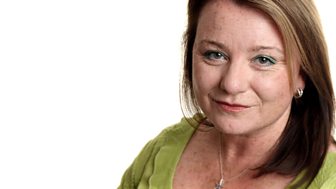 Debbie McCrory
Debbie presents the Sunday Choice programme on Sunday between 12-2pm.
She brings you all your favourite requests with her 'Debbications'on Sunday choice between 12 and 2.
"Musical Mad! That's me. I just love them - ever since I watched the Wizard of Oz as a child - I wanted to be Judy Garland.
"Sadly I am not blessed with the greatest singing voice - or for that matter a dancer's body...
"But I can do both those things with great gusto when required," laughs Debbie.
Debbie McCrory's no stranger to the bright lights and performance - she's auditioned in front of Dame Judi Dench and has played a trumpet, if somewhat out of tune, to Cameron Mackintosh.
"I have always loved being on stage and played all the leads in the school shows and since then I have played some fantastic roles here in Cornwall - from Joan of Arc to Eliza Doolittle and made some great friends in the process."
At BBC Radio Cornwall, Debbie puts her other 'natural' talent - talking - to good use. Debs now brings you many of the local news stories throughout the week on the BBC Radio Cornwall news bulletins or out and about as a reporter in the region.
"Once I am in work I don't stop (ask my colleagues)," smiles Debs.
This spirit comes in to its own in the name of entertaining radio. Debbie's jumped over fence in the main ring of the Royal Cornwall Show, had her legs waxed on air, gone ice skating with microphone in hand. She's even been dressed as a scarecrow and made to stand on Trafalgar Roundabout - her forfeit for losing an on-air challenge. C'est la vie!
When she's not in work, Debs loves to potter in her little garden. "I adore my agapanthus - which I have lovingly grown over the past 5 years - and its now huge, I have to protect it from my cat, Casper, who loves to sit under its leaves and pounce at me when I hang out the washing."
She's also an art lover and knows just what she likes. "I would love to own an original John Dyer painting - I have some limited edition prints - his paintings make me smile - it's Cornwall on a canvas!"
What's left for her to achieve? "My greatest challenge is to get a show dedicated to musical theatre here on BBC Radio Cornwall - and the greatest challenge of my colleagues is not to let me. Who will win, we will have to wait and see."
You can leave a messge with your request for Sunday Choice 24/7 by calling 01872 475206 local rates apply.