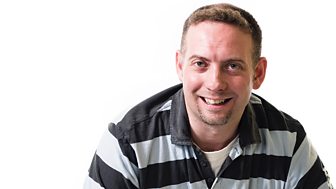 Ed George
Ed lived in Yorkshire for the first 18 years of his life and wanted to be either a presenter or a rock star.
Early attempts at breaking into radio included singing a Christmas carol on BBC Radio Leeds when he was nine (It Was On A Starry Night, just in case you wanted to know), rapping poorly on a commercial radio station in Leeds at the age of fourteen and dressing up as a sticker monster for BBC Radio York for most of the weekends one crazy summer in the early 1990's.
He studied acting at College and University but realised that instead of pretending to be other people he really enjoyed being himself.
And by then he'd completely given up on being a rock star and so presenting seemed to be the thing to do.
Needless to say, he had to do a whole bunch of different jobs before a radio opportunity arose.
These included paper boy, actor, continuity announcer for ITV, waiter, voice-over artist, kitchen hand, researcher for Oz Clarke on BBC2's Food & Drink programme, data processor for a major haulage firm, guest booker for The Trisha Show and in-store IT trainer for a number of computer shops.
Eventually, that radio station manager's door opened up and he's been presenting ever since.
He's lived in Yorkshire, Norfolk, London and Derbyshire but work has taken him all over the UK and occasionally abroad.
His real passion is music and so being a radio presenter is a perfect job to have. While following the rock star dream he once played keyboards on stage at the Marquee Club in London but these days the closest he gets is the occasional DJ'ing slot around the city.
He loves good food, walking, movies, photography, body boarding (not easy to do often living in Derbyshire)……and a decent pint of beer when he can find one.
Ed lives in Derby with his wife, Lindsay and son, William.
On demand
This programme is not currently available on BBC iPlayer Radio
On radio
There are no upcoming broadcasts of this programme
Last on