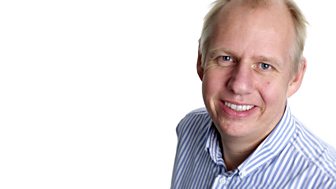 Sussex Breakfast
Sussex Breakfast with Neil Pringle ... weekdays from 0700. Quality local and national news, travel, sport and weather.
Neil has been at the radio station for the last 15 years. In that time he's done every job there is to do. They even let him read the news once or twice, but he kept forgetting to go into the studio in time and after two breathless bulletins decided this wasn't his forte.
Neil was the radio station Manager for a while but thought this was much too much like a real job and has been on the Sussex Breakfast Show ever since.
In many ways this is Neil's dream job. He gets to talk to fascinating people about their lives. He loves asking all those questions which you really want to ask but wouldn't have the nerve in the real world.
He enjoys putting pompous people on the spot. And starting so early means that he gets the afternoons off to watch some daytime telly.
Outside of work Neil likes many things: His family, eating out, drink, Sudoku puzzles, beating his children at sport, holidays, sunbathing, real fires, cheese jazz-funk music, watching football on TV but most of all sleeping (if you've ever done shift work you will understand this).
You can be part of Sussex Breakfast by calling 08459-570057 and by text 81333 (start your message with the word "radio").