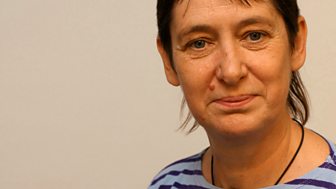 The Eclectic Light Show with Mandy Morton
Mandy Morton produces and presents the Eclectic Light Show, Radio Cambridgeshire's Wednesday evening arts programme.
The show explores Mandy's favourite passions: theatre; biography; music; and anything a little off-centre.
She also creates a number of documentaries throughout the year for Radio Cambridgeshire and the region, including the 40th anniversary of Woodstock and a revealing programme on Beatles biographer, Hunter Davies.
Mandy regularly produces programmes for national BBC radio services, with subjects as diverse as PD James and Clannad.
As a freelance, Mandy has presented every show on BBC Radio Cambridgeshire in the past 25 years, most notably the afternoon show, mid-morning and breakfast, as well as long-running folk and general music programmes; one of many highlights of her time at Radio Cambridgeshire was presenting her Sunday morning show live from Broadway in New York.
She also spearheaded a three-year fundraising appeal for the station's Trustline Charity to buy some vital equipment for Addenbrookes' Oncology Department in memory of Pete Sayers.
These days, she juggles her life between Cambridge and Cornwall, where she and her partner have an 18th century thatched cottage by the sea.
As well as producing radio shows, she has spent the last three years collaborating with her partner on a series of 1930s crime novels, in which the author Josephine Tey takes centre stage.
Besides her partner and her cat, Miss Matilda Jenkins, Mandy's first love is folk-rock music, which she played successfully as a professional for 13 years, releasing six albums for Decca and Polydor, before joining the radio station in 1984.
Although much of her time is spent in Cambridge and the west country, Mandy regards herself as a Suffolk girl and was born in Framlingham.
Her father was a WWII fighter ace and her mother - a knitwear designer - created outfits for Wallis Simpson; consequently, Mandy is a staunch pacifist and can't even sew a button on.
To get in touch e-mail mandy.morton@bbc.co.uk
On demand
This programme is not currently available on BBC iPlayer Radio
On radio
There are no upcoming broadcasts of this programme
Last on