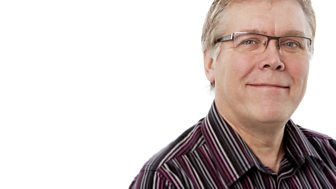 Northern Soul with Ian Gray
A real fan of all kinds of music, Ian presents the weekly trip down memory lane with those classic sounds of 60s and 70s Motown and Northern Soul, that so many of us danced to then... And still do now!
To get in touch e-mail soulman@bbc.co.uk
Motown Sandwich - a chance to hear three great "connected" tracks back-to-back from the world famous Detroit label, be they those renowned chart hits or undiscovered gems. Or you can suggest your own triple combination. Email Ian now.
Soul Sequence - Each week, 3 tracks played with a common theme or link-word. Does your mind work like Ian's does? Why not concoct your own tenuous connection? Go on, have a go for next week's show. Email suggestions welcome for your choice of three great soul songs with a single connection.
Soul Spotlight - Ian digs deep into the archives to shine the spotlight on one of the soul scene's big names. The biography, the history, the life and the songs combine to make a feature that no soul fan will want to miss.
Diaries and Dance Floors - If you can't wait to dance to the style of music featured on Ian's show, then you must not miss Ian's comprehensive guide to the best soul nights around. From massive weekenders to cosy pub gigs, Ian has all the details. Or if you organise or perform at soul events, do let Ian know by email, and he'll give your gig a shout. Attending a recent soul night? - a quick email review is always welcome.
Bedtime Soul - at 10.45pm each week, Ian takes his foot off the accelerator to pick three down-tempo smooth grooves.
On demand
This programme is not currently available on BBC iPlayer Radio
On radio
There are no upcoming broadcasts of this programme
Last on