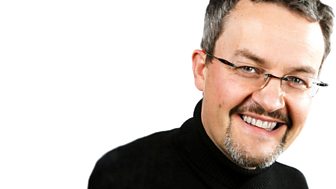 John Griff
John Griff made his Northamptonshire debut in the days before decimalisation.
Just after 8 one morning in March, the Barratt maternity Home at Northampton General resounded to the sound of his voice - since which not much has changed!
Growing up in Wootton (when it was really a sleepy country village), John went to school at Great Houghton, before embarking on a musical career as a professional (yes, he got paid) choirboy at Cambridge.
It was here that he first discovered radio and television studios, the delights of touring and making records, and the fact that playing with the equipment was at least as enthralling as the actual singing.
Hospital Radio
A career in banking took up most of John's time after school (he accepts he wasn't bright enough to get into university), most of it spent in Northamptonshire.
At the same time he started broadcasting - with Radio Nene Valley hospital radio at NGH.
A couple of years later John did as most aspiring presenters do - and demo tapes duly went to all 25 radio stations that existed in the UK at the time.
Just one station replied - and in 1985 John started as the station gopher at Northants 96.
22 years went by… punctuated by stints on cable tv and national radio, stunts involving helicopters and broadcasts from hot air balloons.
A love of motorsport was indulged massively through programmes from the British Grand Prix (John's favourite place) and a life lived in Far Cotton.
Then, in 2007, John married long time girlfriend Kate, and moved away to start a new life in Surrey.
Back to Northants
Now, after a call from out of the blue, John finds himself back in his home county and delighted to be working for the BBC.
A self-confessed gadget freak, John still loves all forms of motorsport, eating out, music and photography.
He has NO talent for dancing, painting or drawing, but makes a mean lasagne and has been known to wire a plug without blowing himself or the immediate neighbourhood up. Well, so far.