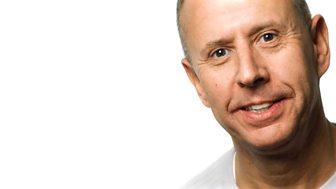 Rob Dunger
Rob starts the day with a mixture of music and chat.
On demand
This programme is not currently available on BBC iPlayer Radio
On radio
There are no upcoming broadcasts of this programme
Last on
Sun 27 Jul 2014 06:00
BBC Radio Suffolk
Rob Dunger
Rob is something of a polyglot and is fluent in English, French, Spanish and Dutch with a smattering of Greek and Turkish!
He's lived in Suffolk for more than 25 years and truly believes it is the finest county in the land.
Rob started his broadcasting career on BBC Radio Suffolk as a guest newspaper reviewer on Saturday mornings.
He caught the radio bug and soon started helping on the phones at the weekend for a few hours, which soon turned into every Saturday morning and practically all day Sundays.
Before the lure of the microphone, Rob worked as a florist.
He's passionate about colour and flowers and design have been his love for many years.
"I just love the thought that, even through the most adverse conditions, nature can replicate perfection - an example to us all," he said.
In his spare time Rob can often be found in the gym. "I got hooked on body-building about five years ago and find it the best way to get rid of life's tensions."
To get in touch with Rob, email: rob.dunger@bbc.co.uk