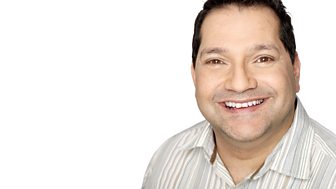 Den Siegertsz
Take Den's six in six challenge, eavesdrop on the weekly 10am - 11am guest in conversation, be intrigued by a local History Mystery, and keep up-to-date with the week's events and happenings.
Den Siegertsz
Den Siegertsz provides the perfect listen for your Saturdays.
History mysteries provided by historian Doug Pickford combines places of local importance with strange or mysterious happenings. There's the usual wit and 'wisdom' from Den himself. Great music and if there's anything happening around the area and you ought to know about it it'll be on the programme.
Local lad Den was born in Middleport, and started his working life in a potbank. He went on to train and work as an engineer, electrician and nightclub DJ before joining BBC Stoke. He presented the lunchtime show for many years, then early mornings, before making the switch to Saturdays.