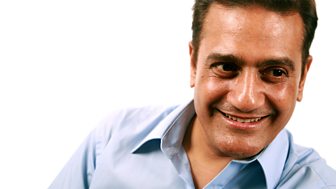 Kamlesh Purohit
'Jack of all trades' is probably the best way to describe Kamlesh having worked for BBC Leicester, BBC Nottingham and Asian Network, Five Live and World Service to name a few!!
However, Kamlesh says his real claim to fame is working on the Combined Release & Radiation Effects Satellite at Rutherford Appleton Laboratory which was scheduled for launch on the Space Shuttle. During that time he met NASA's Dr Jeff Hoffman, the first astronaut to carry out an unscheduled space-walk. That, and being asked to present the 7 O'Clock Show on BBC Radio Leicester!
Kamlesh moved to Leicester with his family from Kenya in the 1970s as a small child. He studied at De Montfort University, and after graduation began work as an engineer.
It was around this time he started to help out behind the scenes on BBC Radio Leicester's daily Asian programme - The 6 O'Clock Show. He fulfilled his dream when he eventually became the show's presenter. In 1996, the Asian programming strand broke away from its parent station, BBC Radio Leicester, to form a new 24-hour radio station in its own right called BBC Asian Network.
Those were pioneering days for British Asian broadcasting, and Kamlesh was a key member of the management team. He helped to establish new schedules as well as finding and nurturing new talent, such as Manish Bhasin, the presenter of The Football League Show, who started in radio answering phones on Kamlesh's programme!
Coming back to BBC Radio Leicester completes a very exciting journey for Kamlesh.
Be Part of It with Kamlesh Purohit on his own show, Sunday evenings 8pm-10pm.
Desi Download