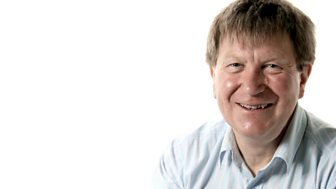 Trevor Fry
Wind up the evening with great music and calls.
On demand
This programme will be available shortly after broadcast
On radio
Monday 18:00
BBC Radio Bristol & BBC Somerset
All upcoming (2 new)
Trevor Fry
Trevor Fry has wanted to work for the BBC since he was seven years old.
He originally wanted to be a television camerman and fell into the medium of radio purely by accident.
He started his career on the airwaves through hospital radio, then moving to Bristol's first commercial station, Radio West.
The BBC then knocked on Trevor's door and he joined BBC Radio Bristol in 1997.
He has been in the business for more than 22 years and he still loves every minute of his working day and life.
His wife, Sue, works for BBC Radio Four and they have three children: Sam, Camilla and Joshua.