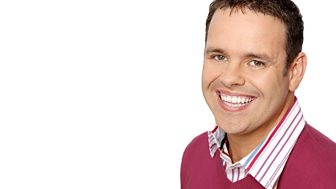 Tim Wedgwood
Tim Wedgwood brings you a round-up of the day's news along with some great music and entertainment between 4-7pm on BBC Stoke.
On demand
This programme will be available shortly after broadcast
Tim Wedgwood
Tim Wedgwood was born in Staffordshire and has lived and worked in the area for more than 20 years. 
As you might presume from his name, he is related to the famous Wedgwood pottery family.
He presented the youth magazine show Mix FM on BBC Radio Stoke in the early nineties, but his first 'proper' job was at BBC Radio Nottingham. 
He hosted the Breakfast Show before returning to BBC Stoke to do the same. 
Tim was also BBC Radio's South Cheshire correspondent for a while. 
Now you'll hear him on Drivetime between 4-7pm bringing you a round up of the days news and sport, as well as great music and chat.
You can contact the show by calling 01782 208008 or by texting 81333 starting your message with the word STOKE.
Tim's a member of the Donna Louise Trust Children's Hospice and helps out there where he can. 
You can often see him hosting various concerts and events - the Race for Life, For The Girls and Stafford Christmas lights switch-on are just a few examples. 
He's married to Jodie and has a daughter called Mollie.