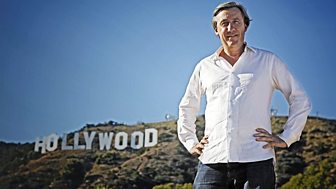 Art of America
Andrew Graham-Dixon embarks on his most ambitious journey yet, an exploration of the rich, exciting and diverse art history of the United States of America.
Next on
There are no upcoming broadcasts of this programme
Last on
Five hidden messages in the American flag
Until 1912, there was no set design for the Stars and Stripes. And so, hidden in older versions of the flag, its makers laid hints of the country's history and quest for identity.
Selected Books
America, Empire of Liberty: A New History - David Reynolds (Allen Lane: 2009)

Art in America : 300 years of innovation - Susan Davidson (editor) (Merrell, 2007)

Big Chief Elizabeth: How England's Adventurers Gambled and Won the New World - Giles Milton (Sceptre, 2001)

A New World: England's First View of America [Paperback] - Kim Sloan (University of North Carolina Press, 2007)

Minimalism (Themes & Movements) - James Meyer (Phaidon, 2000)

Jackson Pollock - Kirk Varnedoe, Glenn Lowry (Museum of Modern Art, 1998)

American Sublime: Landscape Painting in the United States, 1820-1880 - Andrew Wilton, Tim Barringer (Tate Publishing, 2002)

The Photography of Charles Sheeler: American Modernist - Theodore E. Stebbins (Little, Brown & Company, 2002)

Ed Ruscha: Fifty Years of Painting - James Ellroy, Ralph Rugoff, Alexandra Schwartz, Bruce Wagner (Hayward Gallery Publishing 2009)

Norman Rockwell: Pictures for the American People - Maureen Hart Hennessey (Editor), Anne Knutson (Editor) (Harry N. Abrams, Inc. 1999)