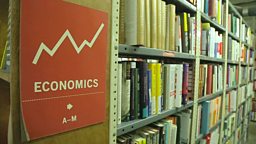 A look at the post-war boom and onset of consumer capitalism in the United States.
Talking Business
Examining the business stories and economic trends that are re-shaping our world.
Last on
Yesterday 00:30 GMT
BBC World News except North America
Some people got very rich in the US in the 19th Century - but most didn't.

Comedian Colm O'Regan takes a look at capitalism in the US and its origins.

The modern face of capitalism. Comedian and writer Colm O'Regan reports from Dublin.

Comedian and writer Colm O'Regan casts his comic lens upon the intricacies of capitalism.