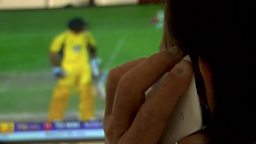 Despite an official recommendation to allow betting on cricket, it remains controversial.
India Business Report
India Business Report provides an indispensable guide to the big stories to watch out for in the week ahead.
Facebook's Free Basics campaign goes against the principal of net neutrality, say some.

Taxi drivers in Mumbai are letting interior designers loose on the inside of their cars.

Best-selling author and economist Thomas Piketty speaks to the BBC's Justin Rowlatt.

The BBC's Sameer Hashmi explains why booming electronic sales are not always good news.

Yogita Limaye visits some of the firms giving India's favourite drink a makeover.

The BBC's Simon Jack asked Raghuram Rajan if India could be an engine of global growth.

India is "the bright spot among the world's big emerging nations", says World Bank.

Companies in the private and public sectors are making their workplaces more inclusive.

Is the start-up boom in India actually a bubble in danger of bursting in 2016?

After the devastating floods in Tamil Nadu, should India spend more on flood defences?

Will an image makeover help Indian food become more palatable overseas?