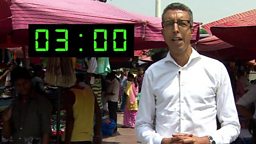 The BBC's Kamal Ahmed explains why India's economy is so important globally.
India Business Report
India Business Report provides an indispensable guide to the big stories to watch out for in the week ahead.
Next on
Sunday 05:30 GMT
BBC World News except North America, South Asia
All upcoming (1 new and 2 repeats)
Finance Minister Arun Jaitley explains how much reform progress has been made

India's annual growth rate is officially 7% - but are these figures accurate?

The central bank's Raghuram Rajan explains how India is 'insulated' from a China fallout

Few Indian firms are currently globally well-known, but is that now about to change?

Many of India's young entrepreneurs are choosing cafes or co-working spaces as offices.

Why are people staying in India's dangerous buildings? Sameer Hashmi reports.

India is planning new rules to help protect its four million domestic workers.

The BBC met one entrepreneur in Mumbai trying to tackle the problem of childcare.

Students are finding internships online, but are they getting ahead in the jobs race?

How does being online really change things for people living far from India's big cities?

The women bucking the trend in the very male-dominated debt-recovery industry.

Can solar power help solve India's recurrent power shortages? Pratiksha Ghildial reports.

The woman running her own manufacturing plant near the city of Pune.

One firm is trying to encourage the specialist market for mending bikes and scooters.

Indian vineyards are now making their own fizz, so is it a threat to French champagne?

India's steel manufacturers worry about overseas competition, despite increase in demand.

You may not associate India with wine, but the industry has grown over the last decade.

Indranil Das tells the BBC the corruption scandal will have financial implications.

Co-founders of Agaline, a lingerie company based in Delhi, talk about their business.