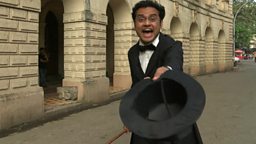 Can India's much-hyped budget really conjure up big change, or is it just an illusion?
India Business Report
India Business Report provides an indispensable guide to the big stories to watch out for in the week ahead.
Next on
There are no upcoming broadcasts of this programme
Last on
Plans for rail investment are announced but firms still wait for sign-off on projects.

What will be in Prime Minister Modi's first full budget? Watch our 90-second preview.

Can the government follow through on its promises to cut subsidies on fuel and gas?

How Indian businesswoman Pooja Dhingra went from law school student to patisserie chef.

A lack of childcare for working women has led some businesses to step up and help out.

Sex workers call for trade to be legalised but others fear an increase in trafficking.

Companies in India are asking potential customers to call them... and then hang up.

How cab firms are improving safety after an allegation of rape by a taxi driver in Delhi.

Frank Islam moved from India to the US as a teenager and later made his fortune there.

Will the creation of new tennis leagues open the sport up to young hopefuls?