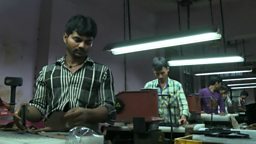 Sameer Hashmi finds out if signs of business confidence are changing on the ground.
India Business Report
India Business Report provides an indispensable guide to the big stories to watch out for in the week ahead.
Next on
Next Saturday 23:30 GMT
BBC World News except Europe
All upcoming (1 new and 2 repeats)
In an initiative to help the poor, PM Modi advocates a bank account for every household.

Nadir Godrej reads a few verses on the challenges facing India's manufacturing sector.

Shilpa Kannan reports on a new advertising trend that encourages consumers to take part.

The business tycoon selling off investments in an attempt to free himself from prison.

Donald Trump explains why he is so keen on investment in India.

Shilpa Kannan reports on challenges facing Indian tourism.

Sales of smartphones in India are booming, driven by lower priced devices.

Social activists ask if India's plans to revamp factory laws will erode worker rights.