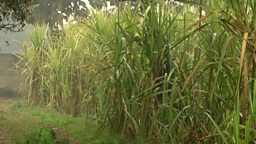 Despite a fifth year of bumper crops, many Indian sugar farmers are not celebrating.
India Business Report
India Business Report provides an indispensable guide to the big stories to watch out for in the week ahead.
Philanthropy and corporate giving are becoming an important part of business in India.

The rupee has proved resilient but Indian manufacturers still fear the strong US dollar.

Hockey is on the decline in India, but can anything be done to reverse the trend?

Do workers who take offensive content off social media sites face psychological dangers?

Can hydropower help India's electricity shortage? The BBC's Ashleigh Nghiem finds out.

What difference will a rail link in Arunachal Pradesh make to the economy?

Will the new Indian airline formed by Tata and Singapore Airlines succeed?

A growing number of young, wealthy Indians are buying art as a form of investment.

Demand is rising for sterilisation in India, driven by cash incentives from the state.