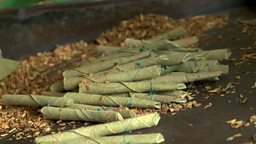 Can manufacturers of the bidi cigarette attract city smokers too? Sameer Hashmi reports.
India Business Report
India Business Report provides an indispensable guide to the big stories to watch out for in the week ahead.
Next on
Sunday 05:30 GMT
BBC World News except Europe
All upcoming (2 new and 4 repeats)
A reduction in violence at Line of Control boosts trade in Indian-administered Kashmir.

Are clothes makers ready for more exports? The BBC's Shilpa Kannan reports.

Movie-rich India is preparing to welcome the art of musical theatre.

Can the resources and funding be found for rugby in India? Simon Atkinson reports.

Statues at the festival worshipping Lord Ganesh are becoming a model of sustainability.

JP Morgan's chief economist points to global growth and confidence in food disinflation.

The BBC's Sameer Hashmi analyses the country's economic highs and lows.

Not everyone is excited abut the Indian prime minister's visit to Silicon Valley.

Between April and June more than 20 million people took domestic flights in India.