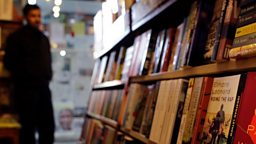 One of India's most influential publishers tells the BBC it's "very hard" to make money.
India Business Report
India Business Report provides an indispensable guide to the big stories to watch out for in the week ahead.
Some new internet users are falling victim to fraudsters, cashing in on their naivety.

Two food outlets in Mumbai have gone to court for the right to use the name BBC.

Maharashtra has become the latest Indian state to ban the slaughter of cows.

Introduced to India in the 1920s, the woven fabric khadi is making a comeback.

Some Indian farmers in the north-east are turning their hands to growing kiwifruit.

The Indian government is turning to microfinance to help people run small businesses.

Why is there a shortage of female directors at Indian firms? Pratiksha Ghildial reports.

Devita Saraf discusses the Indian market and being a woman in a male-dominated industry.

Despite a fifth year of bumper crops, many Indian sugar farmers are not celebrating.