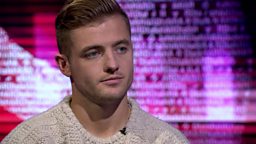 US professional footballer Robbie Rogers on the "pack mentality" in soccer.
HARDtalk
In-depth interviews with hard-hitting questions and sensitive topics being covered as famous personalities from all walks of life talk about the highs and lows in their lives.
The veteran film director who says young film-makers must be ready 'to break the rules'.

Arafat's widow Suha discusses the legacy of former Palestinian President Yasser Arafat.

Why the paper which ran Muhammad cartoons in 2005 is not standing with Charlie Hebdo

The extension of surveillance powers will not prevent attacks says Richard Barrett

As Greece calls a snap election Portugal believes the country will remain in the eurozone

Rabbi Glick survived an assassination attempt in 2014 in which he was shot four times.

The chair of the UK's defence committee warns of the impact of military spending cuts.

Yves Daccord, the Director General of the International Committee of the Red Cross.