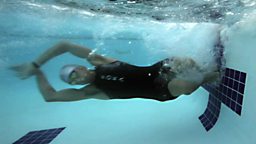 From fitness trackers to motion capture - the technology aiming to improve technique
Click
A comprehensive guide to all the latest gadgets, websites, games and computer industry news.
Next on
Next Saturday 06:30 GMT
BBC World News except Africa, Asia Pacific, Europe
All upcoming (1 new and 10 repeats)
The giant driverless trucks patrolling one of Australia's biggest automated mines.

How a "Pyrotron" can help predict where fires will start and how they will behave

How an artist brought van Gogh's ear 'back to life' and allowed people to 'talk' to it.

How Japanese broadcaster NHK is preparing for hi-tech coverage of the 2020 Olympics.

Deploying robots to help medics tackle the outbreak

Twitch.tv - where 50 million gamers watch other gamers. Is it a new cultural phenomenon?

A phone you wear on your finger and a wristwatch which locks your front door

The Japanese dance group using wearable technology to lighten up their act.