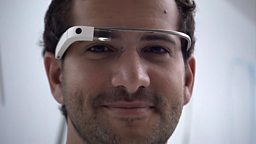 Kathleen Hawkins rounds up the week's news in tech including an update for Google Glass.
Click
A comprehensive guide to all the latest gadgets, websites, games and computer industry news.
Scientists are working on a soft legged robot that can navigate difficult terrain.

Scientists at the UK's Bristol Robotics Lab turn urine into electricity.

Makerbuino is a DIY games console aiming to teach kids about building electronic devices.

Mike Roberts asks strangers on the internet to invest his money into the stock market.

Gareth Walkom has been working on a treatment called virtual reality exposure therapy.

A San Francisco company has created a beer tap that aims to pour you the "perfect" pint.
Keep up-to-date with Click
Could tablets replace Tanzania's teachers?