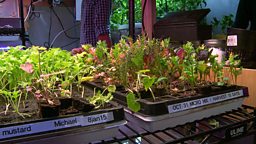 The smart garden that fits inside your house and provides fresh healthy food
Click
A comprehensive guide to all the latest gadgets, websites, games and computer industry news.
The prototype glasses that could help police identify suspects and other technology

Oscar nominees behind Interstellar explain how they created visual effects in the movie.

Why California's San Quentin state prison is teaching inmates how to code

Fitness trackers can monitor our activity 24/7 but how accurate are the devices?

Marc Cieslak previews the new video game Evolve due for release on 10 February

Why one mother found a DIY solution to track her daughter's diabetes data

The technology bringing the piste to your home and allowing you to race against champions

Artificial Intelligence experts are devising a new way to test machine intelligence.