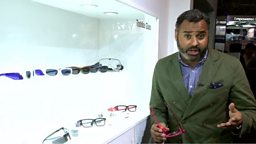 Smart spectacles go into battle – the prototypes looking to take on Google Glass.
Click
A comprehensive guide to all the latest gadgets, websites, games and computer industry news.
How you become part of the story in an interactive espionage-themed theatre experience.

Smartphones and tablets challenge the traditional tools of pen, paper and desktops.

The spies in the sky watching neighbourhoods and looking to tackle crime.

Scientists are using the rover's earthbound twin to help solve problems on the Red Planet

Marc Cieslak reviews the first person survival horror game.