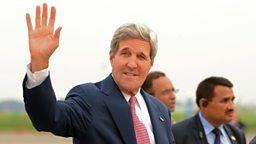 John Kerry is leading the first US delegation to India since the country's May elections.
Asia Business Report
Live from Singapore the essential business news as it breaks and a look ahead to the news that will shape the business day.
Starbucks is opening three coffee shops in Hanoi, the capital of Vietnam.

Why a symbol of Mumbai's diverse cuisine and culture is slowly dying out

Rudy Kurniawan, who manufactured phony vintage wine, is to be sentenced for fraud.

The loss of flight MH17 has raised questions over how flight paths are regulated.

Aviation analyst Chris de Lavigne, on options facing the airline.

The emerging markets of South East Asia are promising strong growth for wine sales.

The so-called Brics group of nations will try to set up an alternative development bank.