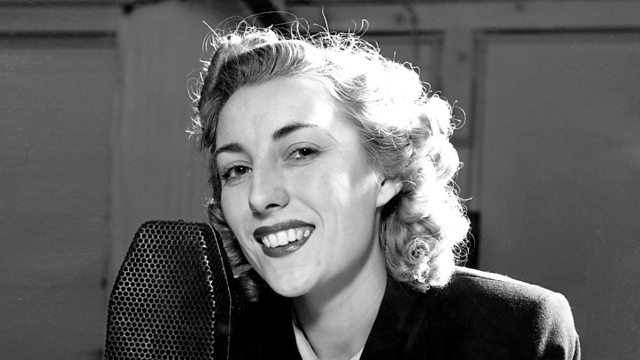 Vera Lynn - The Sweetheart of the United Kingdom
One hundred years old on March the 20th, a day before the broadcast of this programme, Dame Vera Lynn has occupied a quite extraordinary position in the very soul of this country. A voice of the past, a voice from the past maybe - but a voice that needs to be listened to again and again, just so we can all hear how truly wonderful she was as a singer.
Of course this programme celebrates the Vera Lynn that is the British icon, the Vera Lynn whose yearning, sentimental songs spoke to the troops fighting their way to victory in World War 2, songs such as 'We'll Meet Again', 'The White Cliffs of Dover', 'When the Lights Go On Again', 'Yours' , 'When You Hear Big Ben' and 'When They Sound the Last All Clear'; the songs that made Vera Lynn 'the Forces' Sweetheart'. And those songs didn't just bring hope and a sense of belonging to the men and women fighting, they also forged a link with those left behind at home - mothers, fathers, children, brothers, sisters, lovers. But this programme also celebrates a truly original voice, and it's a lyricist and songwriter Don Black who points that out most forcefully, as well as noting that he believes she is still under-rated as an artist.
Don's contributions are pertinent and full of insight but the most poignant voice to be heard in this programme is that of Dame Vera herself. Interviewed by presenter Michael Freedland at her Sussex home, she casts her mind back over 90 years to recall her upbringing in East Ham, her happy childhood with her father, Bert, a plumber, and her mother Annie, a dressmaker. Bored by a factory job, she remembers her parents encouraging her to sing, and taking her to perform around some of the working men's clubs in the East End.
Joe Loss's daughter Jennifer Jankel describes her father's friendship with the young Vera, and how Vera's first radio broadcast was with the Joe Loss Orchestra in 1935. At some point a recording was made with Joe, although it's not totally clear when that was released; certainly it is known that Vera recorded for the Woolworth's cheap label Crown. Although 'Up the Wooden Hill to Bedfordshire' is usually claimed to be her first credited recording, the same January 1936 Crown recording session when 'Wooden Hill' was cut, was also the session when 'It's a Sin to Tell a Lie' and a 'Vocal Gems from Top Hat' were recorded, to be released in February. Crown 137 - 'Vocal Gems' is credited to Rossini's Accordion Band, though it is Vera singing, 'Rossini' being Harry Bidgood.
The story moves on from the 1930s - Vera sings with the Ambrose Orchestra, meets her husband Harry Lewis who becomes her manager. She records her famous wartime hits and from 1941 to 1942 has her own radio show, 'Sincerely Yours' on the BBC, a show which attracts an audience of 16 million. 'Open All Hours' actress Maggie Ollerenshaw, who has toured a one-woman show based on Vera's life and career, explains that Vera was the victim of a backlash against sentimental singers on the BBC (it had been suggested that sentimental songs sapped the will of soldiers to fight and kill) and after the war, she is quickly dropped by the BBC.
But Vera doesn't need the BBC by this time and her career goes from strength to strength - and in fact her pop career is highly successful in that in 1952 she is the first British singer to top the charts in the USA, with the song 'Auf Wiederseh'n Sweetheart'. Her career later encompasses a number of other 'firsts' - in 2009 at the age of 92, she becomes the oldest living artist to top the album charts and now she will be the only centenarian to have released a new album.
The programme's contributors are Don Black; director/choreographer Dougie Squires; London Palladium historian Chris Woodward; Maggie Ollerenshaw; Paddington Bear author Michael Bond; Burma Star 'Forgotten Army' veterans Basil Lambert and Vic Nibb; Joe Loss's daughter Jennifer Jankel; magician and friend of Vera, David Berglas; Vera's pianist Jack Honeybourne; Connie Francis; Vera's nieces Roz and Christine, Vera's daughter Virginia Lewis-Jones and of course Dame Vera Lynn.