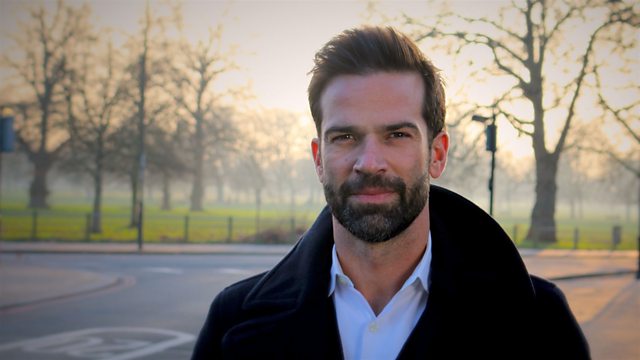 Hospice UK
Gethin Jones presents an appeal on behalf of Hospice UK, which works with hospices to offer people with life-limiting or terminal illness the best possible care.
Hospice UK believes that while end-of-life care might mean pain relief and counselling, there is so much more that can help, and they rely on all of us to make that happen.
Two-year-old Feargus has a complex condition affecting his vital organs, his sight and hearing, but he loves playing the drums with a volunteer at the Robin House children's hospice near Loch Lomond that he and his family visit regularly for respite.
And Royal Trinity Hospice in London is pioneering the use of volunteers to befriend and support patients living with illnesses like Parkinson's, cancer and dementia in their own homes, helping to give more people comfort and friendship at the end of life.
Donation details below:
To donate, please call 0800 011 011 (free on landlines and mobiles). Go online at www.bbc.co.uk/lifeline or send donations to Freepost, BBC Lifeline Appeal with Hospice UK on the back of the envelope.
Last on
Gethin Jones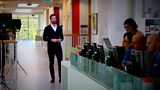 Gethin Jones is a versatile broadcaster and TV personality. Gethin can turn his hand to most things, whether it's presenting the longest running children's show in the world, BBC's 'Blue Peter,' lighting up the dance floor on Strictly Come Dancing, or hosting BBC1's 'Remembrance Week'.
Over the years, Gethin has spent quite a bit of time in hospices. He regularly visited one in Cardiff last year, and he has also visited several children's hospices.
While filming this Lifeline appeal, Gethin got to spend some time at Royal Trinity Hospice in London, where he saw first hand the huge difference hospice volunteers make to people's lives.
Gethin says:
"For places that are home to such deep sadness, I'm always struck by how inspiring they can be.
"That's why I want to show you the very special work hospices do to give people the best possible end of life care."
Hospice UK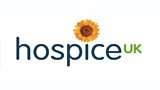 Hospice care transforms lives.
Each year, hospices care for 200,000 people throughout the UK, providing compassionate care that is tailored to their specific needs. From managing someone's pain, to looking after their emotional, spiritual and social needs, hospice care supports the whole person, as well as their family, helping them to live their life to the full.
But they couldn't do this without the help of over 125,000 volunteers, who give up their precious time to support hospices in a range of different roles. Amazing volunteers like Phil and Eddie in our appeal film help to make sure that more people receive the care they need in the place of their choice. In doing so, they also free up hospice staff to concentrate on crucial clinical work.
As the national charity for hospice care, Hospice UK works hard to make sure everyone facing the end of their life gets the best care possible. We champion and support more than 200 hospices for adults and children, making sure their staff and volunteers have the training, funding and resources they need to care for people living with a life-shortening or terminal condition.
The BBC Lifeline appeal will enable us to support more volunteers providing care in hospices and visiting people at home, which would make a big difference. So please donate what you can and help us give more people the chance to do what really matters while they still can.
The Heenan family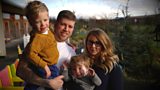 Feargus is nearly two and loves drumming. In the film he's with Phil who's been volunteering at Robin House, a children's hospice, for three years. 
Feargus spent his first 14 months in hospital, undergoing surgery for a complex life-limiting condition. Now, the family come here for regular respite visits.
At first, his family struggled to see how Robin House could be for them.
Emma, Feargus' mum, says:
"You never want to go to a children's hospice. It's not something you want to do. It took us a while to get our head around everything…
"I never expected what it actually is and it's about living, it's not about end of life all the time. It's about making the best of what you have."
The beauty of Robin House is that the whole family can come and enjoy some precious moments together. 
And thanks to the volunteers, parents can have some much needed relaxation too. 
"The first time I came here I got a massage, one of the volunteers, she's a massage therapist and that was a nice surprise for me," says Emma.
"I would never have known about this place had I not been in the position I'm in, the situation I'm in. So for other people to go out of their way to come and help is amazing."
Ken and Eddie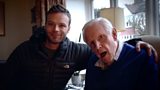 London's Royal Trinity Hospice has about 450 volunteers who are trained to keep an eye on patients' welfare, which includes training in first aid, and in sensitive ways to talk to people with serious illness. They help the specialist staff make what's left of life worth living.
28-year-old marketing consultant Eddie gives up several hours a week to volunteer.
Trinity matched him with Ken who is 84 and has Parkinson's. Ken lives with his wife Kirsten in South London.
Eddie's visits give Ken the confidence to get some exercise.
Ken says:
"Eddie comes along once a week and we go out for a walk. And by the time we get back I must say I'm shattered. And it's getting more difficult, but I'm determined to keep it going because otherwise I'd be completely immobile.
"I'm very lucky. And we hope it will last a very long time."
Credits
| Role | Contributor |
| --- | --- |
| Presenter | Gethin Jones |
| Producer | Fiona Cushley |
| Director | Fiona Cushley |