Sara Cox's big Comic Relief announcement!
Sara reveals she will be dancing non-stop to 80s music for 24 hours in aid of Comic Relief on 20th March. Strictly Come Dancing's Natalie Lowe and Ian Waite waltz into the studio to give us their survival tips for anyone taking to the dance floor for the first time and Richard Curtis calls in to congratulate Sara on her challenge and gives us the latest on the eagerly awaited Love Actually sequel for Red Nose Day. Plus Nick Baines, the Bishop of Leeds has today's Pause For Thought.
Last on
Pause For Thought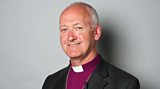 From Nick Baines, the Bishop of Leeds:
Guess whose birthday it is today? OK, yeah, Parish Hilton and swimmer Rebecca Adlington ... and probably a few thousand people listening to the programme now - in which case, happy birthday to you. But, the one I am thinking about is Ed Sheeran. 26 today. How do I know? Well, someone told me he originally comes from Hebden Bridge in my patch of West Yorkshire, and I thought I'd check it out. They're right ... and I noticed that it's his birthday today.
So, open your ears: I'm going to pause for a thought (which means thinking out loud) about one of his best-known songs - recently nominated for a Grammy. Love yourself is a great command ... or invitation. After all, there are plenty of people who don't love themselves - or don't believe themselves to be lovable - and who sometimes then find it difficult to love others.
There is a link here that Jesus got in one when he asked his followers to love God and love your neighbour as yourself. Actually, he was picking up on a maxim that had already been around for a thousand years or more, but he gave it a new twist - and it goes a bit like this:
Loving yourself can turn you into a narcissist who sees everyone and everything through a lens shaped only like yourself. (Apparently, even leaders of countries are not exempt from this.) This makes me the centre of the world - even other people's worlds. It isn't attractive, and it can produce dreadful selfishness.
So, this is why Jesus gets the order right: loving God turns your attention away from needing to justify your own worthiness and focuses on something much more fundamental. I matter because I am made in the image of God. Therefore, I see myself through God's eyes: infinitely valuable and eternally loved. So, what do I do with this? Well, it turns me outwards to love other people whose value is to be found in the same way. I am loved, therefore I love.
So, Ed has got it right: love yourself, but only once you know you are loved. And then pass it on. So, happy birthday Ed Sheeran. Have a good one, and may it be filled with love.
Today's Most Popular Tracks
Most added tracks from this show