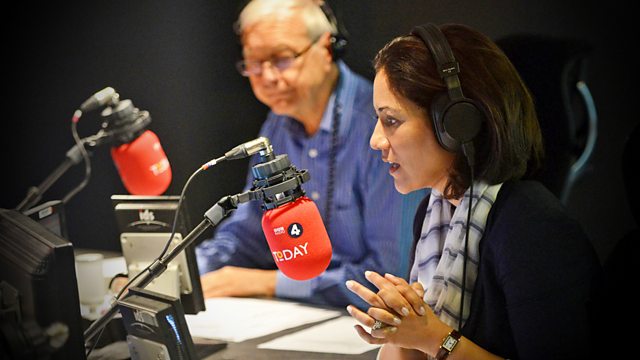 17/01/2017
Morning news and current affairs. Including Yesterday in Parliament, Sports Desk, Weather and Thought for the Day.
Last on
Today's running order
0650
For the first time since it was established the British Antarctic Survey is to pull all staff out of its polar base where it discovered the hole in the ozone layer. Captain Tim Stockings is director of operations at the British Antarctic Survey.
0655
Transport, education, health and welfare services that act as a lifeline to more than 9 million people living in rural areas are fast diminishing according to a report published today by Rural England. Jane Hart is director of Rural England.
0710
Prime Minister Theresa May will make her much anticipated speech about Brexit later this morning. Rupert Harrison was chief of staff to George Osborne and chair of the Council of Economic Advisers in the UK Treasury; he's now with BlackRock as chief macro-strategist.
0715
Rolls-Royce has agreed to pay £671m to settle bribery and corruption cases with UK and US authorities. Dr Susan Hawley is from Corruption Watch.
0720
Former astronaut Gene Cernan, the last person to walk on the moon, has died at the age of 82. Mark Craig is director of the Last Man on the Moon, a documentary about Gene Cernan.
0730
The President of China, Xi Jingping, is set to use his first appearance in his new role at the World Economic Forum in Davos to argue for more open trade between nations. Martin Jacques is a journalist and author of When China Rules the World: The End of the Western World.
0740
In November through the power of this programme we found a mate for a rare left spiralled garden snail called Jeremy. Dr Angus Davison is reader in evolutionary genetics at the University of Nottingham and executive director of Conservation WWF.
0750
One of the pioneers of IVF has called for a government inquiry into extending the time in which scientists can experiment on embryos beyond the current 14 day limit. Professor Simon Fishel is founder and president of CARE Fertility, and one of the first researchers to demonstrate that embryos are capable of responding to their environment. 
0810
Later this morning Prime Minister Theresa May will set out her goals for negotiations to leave the EU, revealing more about immigration policy and whether or not Britain will stay in the single market. John Longworth is former director-general of the British Chambers of Commerce and now co-chair of Leave Means Leave.
0820
It's the 500th anniversary of the Reformation this week and the Archbishop of Canterbury is expected to apologise for the actions of the Church. Suzannah Lipscomb is a Reformation historian & Catherine Pepinster is former editor of the catholic tablet newspaper
0830
Northern Ireland will go to the polls on 2nd March to elect a new Assembly after the executive collapsed over a botched green energy scheme. Mairtin O'muilleoir is Sinn Fein's Finance Minister.
0840
Acupuncture may reduce the amount of time colicky babies spend crying, a small study in the journal Acupuncture in Medicine suggests. But scientists have criticised the BMJ for publishing the research. Professor David Colquhou is a pharmacologist at University College London. Dr Mike Cummings is one of the associate editors of Acupuncture in Medicine and medical director of the British Medical Acupuncture Society.
0850
Outgoing US Vice-President Joe Biden called for Donald Trump's new administration to continue to support Ukraine, Calling it 'key' for Europe and America. The BBC's Tom Burridge reports.
0855
In a few hours' time Theresa May will deliver her much anticipated speech on Brexit. It is her first big statement on the issue since becoming prime Minister and it will be widely watched, not just here in the UK but in Europe and elsewhere.  Ian Birrell is contributing editor of the Mail on Sunday and used to write speeches for David Cameron. Patricia Lane is an expert in intercultural communications.
All subject to change.