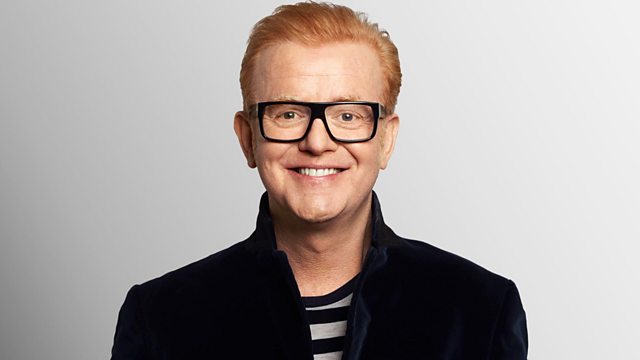 James King, Stuffing and Roast Potatoes
Chris finds out what's hot and what's not to watch this Christmas at the cinemas, including Rogue One: A Star Wars Story, Moana, Sully and Passengers. Our festive foodie Orlando Murrin from BBC Good Food today is talking about seasonal stuffing and how we can jazz it up in time for the big day. Vassos is joined in the Sports Locker by Ed Caesar and vicar Dave Tomlinson has the Pause For Thought.
Last on
Pause for Thought
Dave Tomlinson, writer and Vicar of St Luke's Holloway in London:
Although I've lived in London for over thirty years, I am a scouser, and a reds supporter. It was just about this time in December 1966 that I went to my first football match – Liverpool versus Sheffield United. We won 1-0, Ian St John scored the goal.
Nowadays I live in earshot of the Emirates Stadium. If Arsenal are playing on a Saturday afternoon when I'm writing my sermon I can hear when the home side score. It's not quite so easy to tell if the opposition have got a goal.
The locals love to remind me when Arsenal beat Liverpool in the 1971 FA Cup final, the winning goal scored by a certain Charlie George. I have christened several children 'Charlie George' during my time in North London – including one girl!
A couple of years ago I took yet another funeral for a large Arsenal family, but on this occasion, the deceased turned out to be a Liverpool fan. He was the black sheep of the family who grew up when Liverpool were winning everything and decided to make that his team. But he was greatly loved all the same.
The family were delighted to hear that I was a red scouser, and took comfort that I would be laying him to rest. On the morning of the funeral they tearfully offered me his little Liverpool Football Club brooch. 'We were going to bury it with him' his big brother said, 'but we're sure he would want you to have it.'
It was a moment of realization that beyond our tribalism, there is a bigger football family that stands together at times like Hillsborough or the recent air crash of the Chapecoense team. 'You'll never walk alone' is an anthem for all football people.
I had a similar feeling at our Midnight Mass last Christmas when 15 young Muslim students turned up – and actually received communion. 'We honour Jesus too', a beaming young man told me, 'so we wanted to join with Christians in celebrating his birth.'
Christmas is a good time to remind ourselves that the most basic thing that unites us is a common humanity – in Jesus we do not celebrate the birth of a Jew or a Christian – or even a Liverpool fan – but a human being. And I for one never want to forget that.