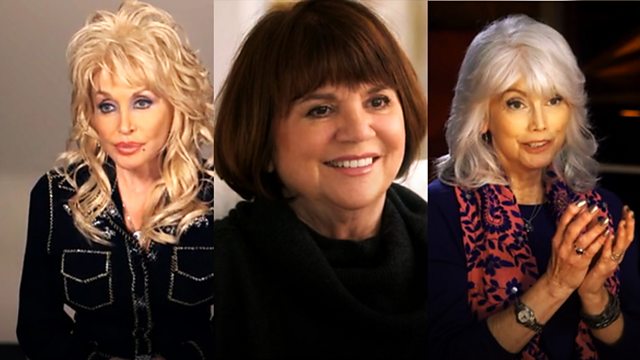 Sisters in Country: Dolly, Linda and Emmylou
Documentary which explores how Dolly Parton, Linda Ronstadt and Emmylou Harris's careers took off in the 1970s with very distinct takes on country, but how they ended up uniting as close harmony singers and eventually collaborated on 1987's four-million-selling debut album, Trio.
In the 60s country music was viewed by most of America as blue collar and Dolly was country through and through. Linda Ronstadt's take on classic country helped make her the biggest female star in mid-70s USA. Folkie Emmylou learned about country from mentor Gram Parsons and, after his death in 1973, she became a bandleader in her own right. It was Emmylou and Linda - the two west coast folk rockers - who voiced their mutual appreciation of Dolly, the mountain girl singer from Tennessee, when they became early students of her work.
The artists talk about uniting as harmony singers and eventually collaborating on their debut album, Trio. The album helped launch the mountain music revival that would peak with the soundtrack to O Brother Where Art Thou. In 2012 Linda Ronstadt was diagnosed with Parkinson's disease which left her unable to sing, but 2016 sees unreleased songs from their sessions to create a third Trio album. This is the story of how their alliance made them pioneers in bringing different music worlds together and raising the game for women in the country tradition.
Contributors: Dolly Parton, Emmylou Harris, Linda Ronstadt, Rodney Crowell, George Lucas, Peter Asher, Chris Hillman, Laura Cantrell, Robert K Oermann, John Boylan, Phil Kaufman, David Lindley, Albert Lee, Herb Pedersen, George Massenberg & Applewood Road.
Credits
| Role | Contributor |
| --- | --- |
| Narrator | KT Tunstall |
| Producer | Dione Newton |
| Director | Dione Newton |
| Executive Producer | Mark Cooper |
| Participant | Dolly Parton |
| Participant | Linda Ronstadt |
| Participant | Emmylou Harris |
Featured in...
The very best in country.

The very best female musicians.

Dolly Parton. Johnny Cash. Bob Harris. Watch all the big legends of country music