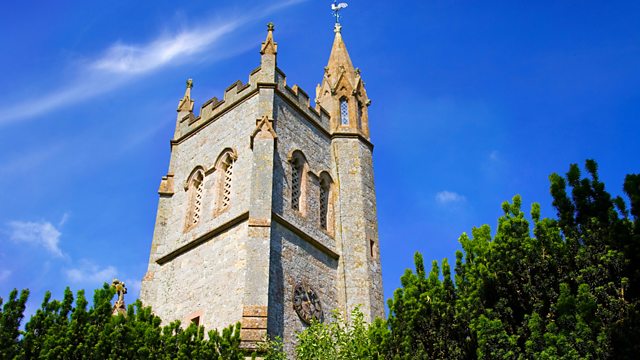 28/06/2015
After the horrific killings in Tunisia, Kuwait and France, the Rev David Bruce explores the experience of the writer of Psalm 13 in finding hope in his despair.
The service comes live from First Lisburn Presbyterian Church in Northern Ireland is conducted by the minister, the Rev John Brackenridge. The music will be by the New Irish Choir and some members of the New Irish Orchestra, founded almost 30 years ago by the hymn writer, Keith Getty and which works with the Church in Ireland to present Christianity through the Arts, The Choir is directed by Jonathan Rea.
Last on
Script - Finding hope in despair
Please note:

This script cannot exactly reflect the transmission, as it was prepared before the service was broadcast. It may include editorial notes prepared by the producer, and minor spelling and other errors that were corrected before the radio broadcast.

It may contain gaps to be filled in at the time so that prayers may reflect the needs of the world, and changes may also be made at the last minute for timing reasons, or to reflect current events.
Script
Opening Anno BBC Radio 4 It's ten past eight. From Despair to Hope is the theme of Sunday Worship today which comes live from First Lisburn Presbyterian Church in County Antrim. The preacher is the Reverend David Bruce. The service is led by the minister, the Reverend John Brackenridge and begins as members of the New Irish Choir sing words based on Psalm 42 "As pants the deer for water sweet, so longs my soul with God to meet"
CHOIR/PIANO/ STRINGS : As pants the deer
REV J BRACKENRIDGE
Good morning and welcome to the heart of the city of Lisburn. We're worshipping this morning very conscious of Friday's savage and terrible events on a beach in Tunisia. No words could even begin to express the revulsion and horror that surrounds us today. We can only begin, in a very limited way, to imagine the overwhelming feelings of those was caught up in the events and the sheer weight of emotions numbingly being experienced by many, many families who are faced with devastating loss. Expressions of condemnation or of sympathy appear totally inadequate/
For those of us who lived through the years of the troubles here in Northern Ireland the Tunisia killings awaken all sorts of melancholy echoes, like the Sunday the day after the Omagh bombing.
The people of this congregation here since 1688 have witnessed many horrid events, but faith and hope sustained them. For the Psalmist says  God is our refuge and strength,
   a very present help in trouble.
 Therefore we will not fear, though the earth should change,
   though the mountains shake in the heart of the sea.
We sing The King of Love my shepherd is, words from Psalm 23 which has brought comfort and hope to millions through the centuries.
CONGREGATION, CHOIR, ORGAN: The King of love my shepherd is
REV J BRACKENRIDGE
Let us pray: Lord God you are a refuge and strength for us; a very present help in times of trouble.
If the foundations of our life are shaken, and If confusion threatens 
we shall not be afraid
For you, Lord of hosts are with us; You God of Jacob are our refuge.
Lord God we praise you for what you have done for us
When we were lost in the world's confusion- Jesus Christ found us.
When death and destruction had done their worst, Jesus Christ was raised from the dead to bring us hope
For you are God - the unshakeable foundation of our being.
So we shall not be  afraid for you our refuge are with us. 
In humbleness of heart, we acknowledge our faults and sins:
We forget to love and serve you and wander from your ways.
Nor have we loved our neighbours as ourselves
We often seem to forget you and overlook your grace and strength.
For we can be overwhelmed by things that happen to us
And in the world around us.
There are many times when we can experience despair and hopelessness
As we struggle on seemingly on our own wit little resource
Disregarding you promise to be a refuge and strength.

Lord, you have promised that if we confess our sins, you will forgive us through Jesus Christ. So assure us now, we pray, of your pardon and your peace.
God of might and power, you support us in danger and carry us through temptation
Give us grace to trust in you and your purposes,
That though we are frail and weak, we may stand upright in any time of trial and serve you faithfully, through the strength of him who makes us more than conquerors,
Even Jesus Christ our Lord  AMEN
REV J BRACKENRIDGE
We hear the word of God in the 13th Psalm. The psalmist testifies to his discovery of hope in his despair.
READER  JANET MOFFETT
 How long, O Lord? Will you forget me for ever?
   How long will you hide your face from me?
 How long must I bear pain in my soul,
   and have sorrow in my heart all day long?
How long shall my enemy be exalted over me?
 Consider and answer me, O Lord my God!
   Give light to my eyes, or I will sleep the sleep of death,
 and my enemy will say, 'I have prevailed';
   my foes will rejoice because I am shaken.
 But I trusted in your steadfast love;
   my heart shall rejoice in your salvation.
 I will sing to the Lord,
   because he has dealt bountifully with me.
REV J BRACKENRIDGE  The Psalmist realized that God was to be trusted, even though he was struggling with his circumstances. But God's presence and support do not depend on our recognizing these. For he is always faithful.
SOLO CELLO PIANO - He's Always Been Faithful -
Words and Music: Sara Groves
REV J BRACKENRIDGE  The second reading from chapter 4 of the Second Letter to the Corinthians affirms that while we are afflicted in every way and perplexed, we are neither crushed;, nor driven to despair
READER SUSIE GILBERT

  For it is the God who said, 'Let light shine out of darkness', who has shone in our hearts to give the light of the knowledge of the glory of God in the face of Jesus Christ.
 But we have this treasure in clay jars, so that it may be made clear that this extraordinary power belongs to God and does not come from us. We are afflicted in every way, but not crushed; perplexed, but not driven to despair; persecuted, but not forsaken; struck down, but not destroyed; always carrying in the body the death of Jesus, so that the life of Jesus may also be made visible in our bodies. For while we live, we are always being given up to death for Jesus' sake, so that the life of Jesus may be made visible in our mortal flesh. So death is at work in us, but life in you.
 So we do not lose heart. Even though our outer nature is wasting away, our inner nature is being renewed day by day. For this slight momentary affliction is preparing us for an eternal weight of glory beyond all measure, because we look not at what can be seen but at what cannot be seen; for what can be seen is temporary, but what cannot be seen is eternal.
(2 Corinthians 4
READER  SUSIE GILBERT  The hymn 'Nearer my God to thee.
CONGREGATION, CHOIR , PAINO AND STRINGS Nearer my God to thee



REV DAVID BRUCE   The Sermon
Are we there yet? Are we there yet? I remember "whingeing" like this to my long-suffering parents on car journeys going on holidays when I was a child - when the weather was as it has been this week. Hot days. Sticky vinyl seats? Even worse when wearing short trousers. No such thing as air conditioning. Are we there yet?
Psalm 13 sounds rather like a child's view of a seemingly endless car journey. Only this wasn't a child, and the end of the journey was definitely not in sight.
Try to imagine David's tone of voice. How long… How long…. How long….? Words like these carry frustration and possibly anger with them. And as we all know, frustration and anger rapidly sour, to become bitterness. It's a long road back to peace from bitterness, and many people don't make it.
That said, there is a basic honesty here. The Psalms don't sanitise suffering. Nor do they dodge the issue of believing in a good God, especially when most of the time, the weight of evidence appears to be against such a belief. The families with relatives in Tunisia today, and people in Kuwait and France, reeling with news of their bereavement must wonder where God is in the horrific events which have unfolded.
The Old Testament theologian Walter Brueggemann reflects on this Psalm and describes its language, and (perhaps) ours today as a "limit expression". A statement of anguish that was limited by the horrible horizon of human distress. O Lord, how long will you forget me? Perhaps our limit expression will be to acknowledge that one breath follows another – without being able to explain why, or that such a thing is good. It's an expression of limit.
•           It's the limit of my reach.
•           The limit of my knowledge.
•           The limit of my faith.
•           The limit of my ambitions.
•           It's as far as I can go.
And this Psalm is full of limit expressions.
How long, Lord? Will you forget me for ever?
How long will you hide your face from me?
How long must I wrestle with my thoughts
and day after day have sorrow in my heart?
How long will my enemy triumph over me?
Such expressions defy reason. You can't plot a logical path out of the mire. Such expressions don't respond well to the baby food of cliches. Listen to it in Eugene Peterson's translation, The Message:
Long enough, God— you've ignored me long enough.
I've looked at the back of your head
long enough.
Long enough I've carried this ton of trouble,
lived with a stomach full of pain.
Long enough my arrogant enemies
have looked down their noses at me.
It's genuinely liberating for us to discover this language is sacred. That it's OK to express the bewilderment, anger, outrage and fury at how life works, because God knows it already – there are no surprises for him here. This is how it is. To those in this nation bereaved today, such words may be for you.
This Psalm has six verses. The first 4 are as we have described. Limit expressions. And then there is a gap. A pause. A silence.
Those of us who are ministers, pastors or priests will struggle to understand what happens next. Scholars of the Old Testament can analyse it theologically, and parse it linguistically and comment upon it philosophically. But we still don't really understand what happens between verses 4 and 5 of Psalm 13. It's a mystery to us - and a sacred space. The poet is somehow able to say, after everything that has happened, "But I trust in your unfailing love…"
This is more than a repair – of the kind that a plumber might make on a leaking pipe. It's more than a shine that a French-polisher might bring to a rough and pitted wooden surface. It's better than a cure that a physician might achieve by prescribing the appropriate medication. This is beyond all that because this is beyond the limit. The journey through the gap from verse 4 to verse 5 takes us over the horizon to another place, where the old rules apparently do not apply. It is a journey most of us will be called to walk at some point. Walter Brueggemann says it is a journey from orientation, to dis-orientation, to re-orientation. Let me explain.
Orientation. Human life is fine. Things are going well. There is stability. It's easy to be grateful to God for the consistency of his blessings to us. Life is good. But then comes…
Disorientation. Human life is not fine. We are in anguish. This is a season of hurt, alienation, suffering and death. Life is a mess. But then comes…
Re-orientation. Human life is renewed. We are surprised,  overwhelmed with new gifts from God. Joy breaks through the despair. Life is deeper.
It might take a day or it might take a decade - but in the gap, at the limit, God does a work of unfathomable mystery.
The mobilisation of God is the antidote to despair. This is not wishful thinking. This is not just singing praise songs to make us feel better. This is living by faith - an audacious act of defiance, which says, "I am not going to fall over - I will stand".
Two days ago, I participated in a funeral service, which for a minister is not an unusual duty. The man who had died was elderly and his life had been lived well. His family had gathered and the church was filled with well-wishers and loved ones. The funeral was a fitting end to a long story. But for me it was more personal - for he was my father. This weekend, I have been invited along with my family to walk the journey from an expression of limit - How long O Lord?" to an expression of hope - "I will trust in your unfailing love".
This is why the Psalms are such an important part of the Bible. They express in their poetry the deep, thick stuff of life that can only be tasted in verse. Strengthening medicine that does you good when you are weak.
To those families who are reeling with news of the death of loved ones, whether in the appalling events we have seen on the news this weekend, or the domestic sadness which no-one will hear about but you and your families, we say, "Your journey is our journey".
And may the words of this next song be for you an act of faithful defiance. The words of the song which are drawn from several of the Psalms say:
Still, my soul be still
And do not fear
Though winds of change may rage tomorrow
God is at your side
No longer dread
The fires of unexpected sorrow
This may be an affirmation for you that with God's help your limit expression will walk the long walk from despair to hope, and that as a result, you will find a different kind of future waiting for you in  God's good even if seemingly impossibly difficult tomorrow than you thought was possible. By God's grace, may it be so.
CHOIR, PIANO AND STRINGS: Still My Soul Be Still
REV J BRACKENRIDGE Still my soul, be still, written by Keith and Kirsten Getty and Stuart Townend and Keith Getty was deeply involved in the establishment of the New Irish Choir and Orchestra some twenty five years ago.
JANET : Let us pray:
READER 1 JANET MOFFETT:  We pray, Lord, for your Church and its witness. May it be a beacon of  light and a source of hope in a world that often seems characterized by darkness and despair. in situations where your claims are often ignored or derided. Give your people true holiness of character, a deeper understanding of people and their needs and a love that is humble, outgoing and open that their lives may reflect something of your grace made known in Jesus Christ ,
READER 2   JOYCE MORAN We pray, Lord for your world, riven by violence, marred by atrocity and full of oppression. We look for that time when your kingdom will come on earth, when peoples and nations shall acknowledge your reign seek your glory and serve your will. Help us not only to pray bur also to work for that day, helping us, by your grace, to promote your truth, justice and freedom/, both in the communities we are part of and in the life of the world.
READER 3  SUSIE GILBERT  We pray, Lord, for those whose  lives have been turned upside down by last week's events in Tunisia and Kuwait and  France.. You are a refuge and strength in times of trouble, be especially present to who are distraught and in terrible sorrow. May they know a quiet hope and be comforted and strengthened by the deep abiding presence of your love
READER 4  LILLY HANNA  We pray, Lord for young people growing up in a confusing world that their energies may be used in your service and the service of others and all their choices may be based on what is true and of lasting value.
READER 5   MARION CRAIG
We  pray for those who experience.
illness or  loneliness; anxiety or depression
uncertainty or fear
We remember those who doubt your purpose and feel forsaken by you.
Surround them all with your presence, support them with your strength,
and give them the assurance
That nothing can separate them from your love.
Through Jesus Christ our Lord
Lilly Hanna to lead
Our Father who art in heaven, hallow'd be thy name.
Thy kingdom come Thy will be done on earth as it is in heaven.
Give us this day our daily bread
and forgive us our trespasses as we forgive those who trespass against us.
And lead us not into temptation but deliver us from evil
for Thine is the kingdom the power and the glory for ever and ever. 
Amen
REV J BRACKENRIDGE  Our final hymn: 'There is a hope that burns within my heart' It's a hope that gives strength and safety and lifts us from our weariness. 
CONGREGATION, CHOIR, PIANO AND STRINGS: : There is a hope that burns within my heart'
REV J BRACKENRIDGE  The peace of God which passes all understanding keep your hearts and minds in the knowledge and love of God, and of His Son Jesus Christ our Lord
And the blessing of God Almighty, Father, Son and Holy Spirit, be amongst you and remain with you always    AMEN
Final music – cello  and piano – an improvised meditation based on Here is Love Vast as The Ocean