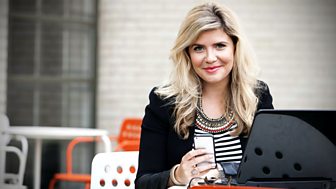 5 live Hit List
5 live's rundown of the top 40 news, politics, sport and showbiz stories of the week that are making the biggest impact across social media and online
On demand
This programme is not currently available on BBC iPlayer Radio
On radio
There are no upcoming broadcasts of this programme
Last on
New Year's Day 2017 01:00
BBC Radio 5 live
5 live's rundown of the week's top stories that are making the biggest impact online.

Horace Panter says his drumming technique was "the signature sound of The Specials".

Drowned refugee Alan Kurdi's aunt cannot look at his image, but understands its power.

He said the party needed to be united in order to form an effective opposition force

Only a matter of time before we build a real lightsaber says scientist Star Wars fan.

The heartwarming tale of a lonely widower and his best friend, Jinjing the penguin.
The Hitlist 6 November 2016
20 Meghan Markle, she is an actor, she speaks to the UN.. oh and she's going out with  Prince Harry
19 A rather unusual wedding proposal
18 Chelsea who thrashed Everton 5 nil
17 Fardad Farahzad, the BBC journalist who really, really likes the news
16 The Chinese child driving into danger on a toy car
15 The campaign to get men to cry 
14 The parents who allegedly gave their children heroin to help them sleep
13 Manchester United lost to Fen-er-batch-eh in Europe but beat Swansea in the premier league
12 The lorry driver jailed for 10 years for causing a crash whilst looking at his phone
11 Ireland beat the all-blacks for the first time ever
10 The European MTV music Awards are being given out tonight
9 FIFA gets a kicking over their poppy ban
8 The new kid in the formula one town
7 Leonardo DiCaprio's new film on climate change
6 The Chicago cubs finally win the World Series
5 1.4 million people say they are on a rock in Dakota to fool the police
4 The dog pulled from the rubble in the Italian earthquake
3 X factor's terrible rapper Honey G
2 Brexit.. the judges step in
1 The American Presidential election - will it be Trump or Clinton - 3 days until we have the answer