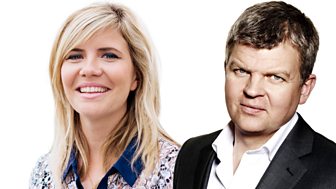 5 live Daily
Original news and exclusive interviews from across the UK
Acid attack victim meets shopkeeper who sells acid cleaners

A student explains why he attempted to climb Ben Nevis wearing high heels

Emma Barnett talks to Theresa May in her first in-depth interview since the election.

Tim Farron reveals he decided to stand down as Lib Dem leader two weeks into the election

Martin Lewis explores the issues surrounding student finance

Comedian Al Murray reveals how he saved a trapped farm worker's life.

A new app called Wingly is hoping to become the plane equivalent to Uber

A recruitment company on why it offers employees unlimited holidays.

Martin Lewis on how to get the best summer holiday exchange rates.
Eye of the Storm with Emma Barnett